Here at California RV Specialists we specialize in replacing awning and slide topper fabrics daily as well as the install of new awnings and slide toppers.
Slide toppers are very beneficial to your RV slide toppers keep the room temperature door as well as keeping debris off the slide out roof that will damage the seals. Tree branches, acorns etc will get caught in between the slide roof and the seals tearing the seals and adding costly repairs.
RV Slide toppers & Awnings
Here at California RV Specialists we provide awning fabric replacements, hardware replacements, Installs and upgrades of awnings, power awnings and slide toppers. The 3 big leaders in the RV industry for awnings are Lippert Components, Dometic and Carefree of Colorado. Below we will list a few of the top models from each company.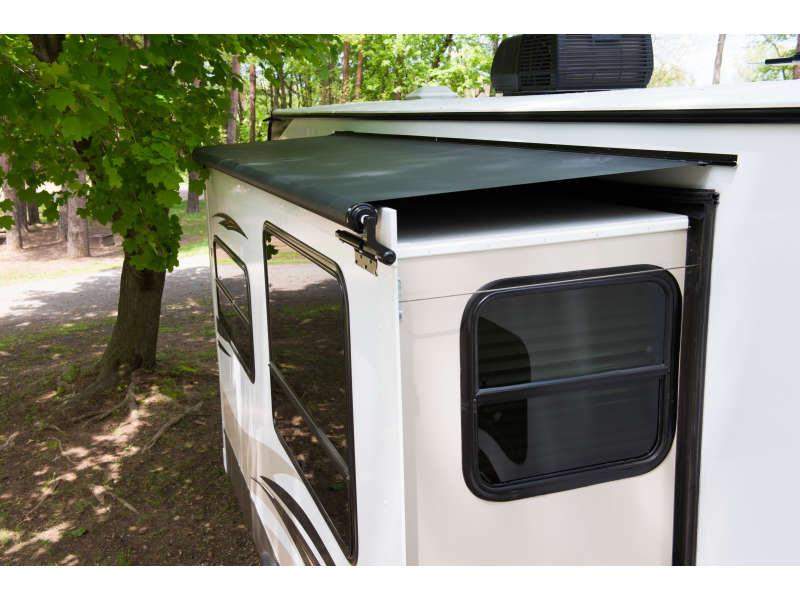 Solera Slide Toppers by Lippert
Attractive and economical protection for your slide-out
Full coverage over the slide-out roof and the RV sidewall slide-out opening
Fits slides ranging from 66″ to 192″ long and extending up to 42″
Comes complete with awning rail and all mounting brackets
Choose from multiple vinyl fabric colors
Cost-effective alternative to other slide-out awnings
Permanently attached to the slide rooms; retracts/extends with slide-out
---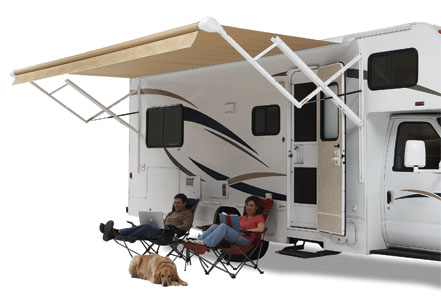 Carefree 12 Volt Travel'r
Ideal for 5th Wheels and Travel Trailers.
Easy, push-button operation.
Great looks and proven reliability.
Now your Travel Trailer or 5th Wheel can have the same ease and convenience as a big motor home. The Travel'r incorporates some of the proven design features used on Carefree's popular 12V Eclipse at an economical price. It features integrated styling and mounts flush to the RV to help the arms blend into the sidewall for great looks. The truss-support design provides superior strength and maximum head clearance for easy access to your patio area. Like the Eclipse, the Travel'r features effortless operation and peace-of-mind that the awning won't billow.
Buy the Travel'r as a complete new awning, OR upgrade your current Carefree or A&E patio awning!