Looking for a Fifth Wheel hitch? You have came to the perfect spot!
Below is a couple hitches that we sell weekly offered by Demco.
First off is the Autoslide hitch perfect for short bed trucks! Ranges from 13k up to 21k.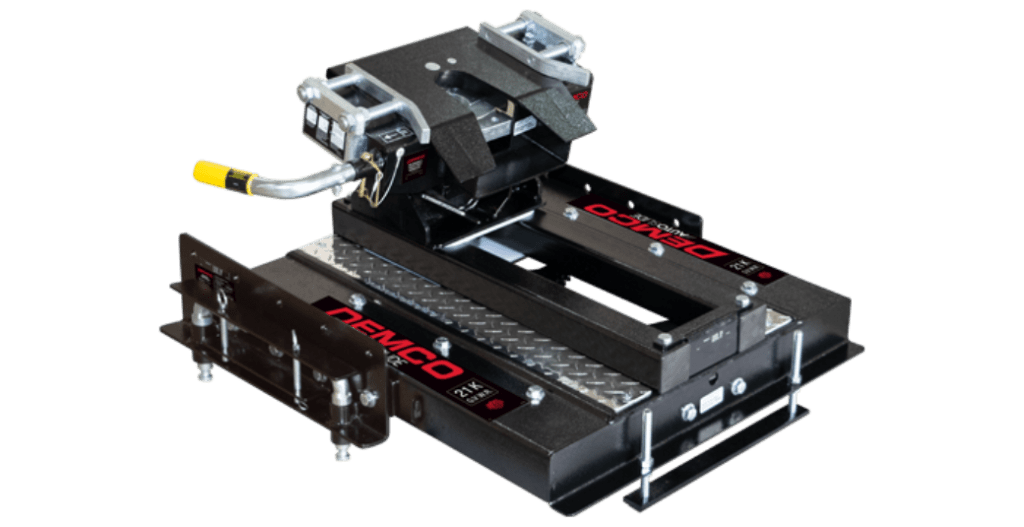 Autoslide – Automatic Sliding Hitch
Hooking Up/Disconnecting Safe & Easy
Peace of mind. What's that worth? With the Autoslide, you will have the peace of mind that comes with towing and not having to worry about cornering in tight spaces, getting in and out of the truck to pull a pin and manually slide the hitch! The Autoslide utilizes Double Pivot Head Technology to make hooking up and disconnecting safe and easy. Polyurethane bumbers integrated in to the head of the hitch also eliminate any noise from the hitch when towing. Come rain or shine, the Autoslide simply makes your life easier. Isn't that what it's all about?
If your trailer is equipped with a suspension pin box, you may need one of our optional locking plates. Click here for a complete list.
This hitch may allow 90 degree turns, but NOT IN EVERY CASE.
Please consult vehicle owner's manual for 5th wheel towing instructions.
The Autoslide automatic sliding hitch is designed for short bed trucks to give additional clearance between the truck's cab and the trailer during turning maneuvers.
This hitch may allow 90 degree turns, but NOT IN EVERY CASE. There are many variable that can influence the ability to make a full 90 degree turn, such as the trailer width, sharp or rounded trailer corners, and truck cab profile.
The placement of the trailer king pin box also has a part in determining the turning ability of the truck and trailer. It is always recommended, even with an automatic sliding hitch, that the trailer be equipped with an extended pin box that projects out forward from the trailer.
Caution should always be exercised when using this or any hitch to ensure that the driver is aware of the clearance between the truck and trailer when executing turning maneuvers.
Curt A16 5th Wheel Hitch with Rails
The CURT A16™ is designed to provide a surprisingly quiet ride while maintain superior towing power. It has a gross trailer weight capacity of 16,000 lbs. and can handle a vertical load up to 4,000 lbs. It comes with a three-position coupling indicator visible from your pickup truck cab, an extra wide head for easier coupling and high-strength interlocking die-cast jaws for a secure hold on your 5th wheel trailer.
This 16K 5th wheel hitch excels in quiet 5th wheel towing. It uses a fully articulating torsion head, a cast yoke with poly-torsion inserts and interlocking jaws to create stability for your trailer and tow vehicle. These components also allow the A16™ to suppress shock and vibrations and reduce any additional noise coming from your trailer. Like the other CURT A-Series™ hitches, the A16™ is coated with a durable carbide powder coat finish. It is tested in accordance with SAE J2638 for safety and includes a limited lifetime warranty to make this the best hitch ever to be mounted in the back of your pickup. This A16™ 5th wheel hitch comes with a set of industry-standard 5th wheel legs and 5th wheel rails to be mounted in your truck bed with a 5th wheel bracket kit (brackets sold separately).
PRODUCT SPECIFICATIONS
Part Type*
MaterialBlank
Head SeriesA-Series
Shipping Weight165.000
Product Weight165.000
Vertical Load4,000 LB
Gross Trailer Weight(GTW)16,000 LB
Height13 IN - 17 IN
FinishCARBIDE BLACK POWDER COAT
WarrantyLimited Lifetime Warranty (One-Year Finish, One-Year Parts)
B&W Patriot 16K Fifth Wheel Hitch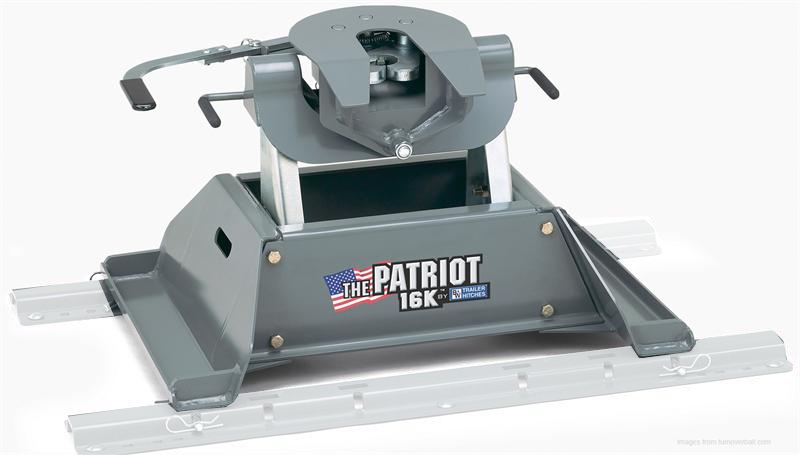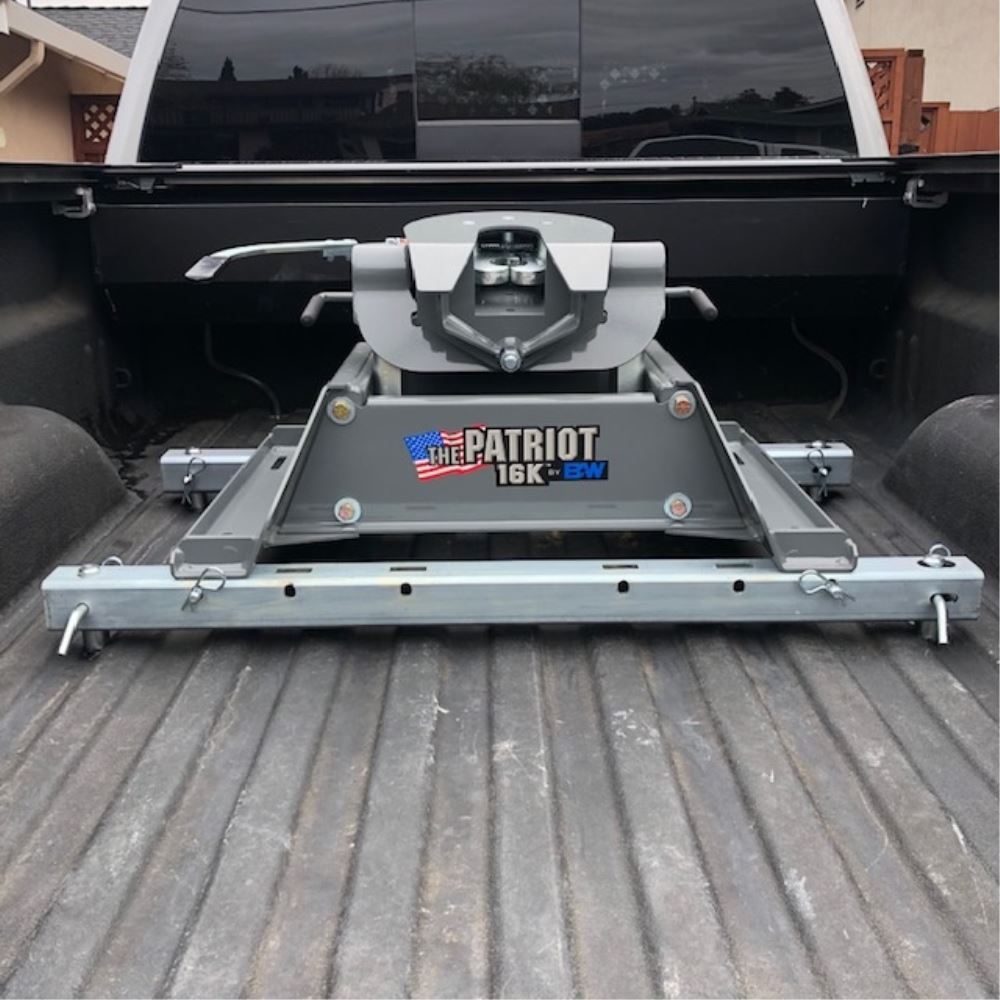 The B&W Patriot Fifth Wheel Hitch for sale is designed to be less expensive and a lighter weight alternative to its big brother the Companion, without skimping on the hitch.
Cast wrap around jaws

Cam action latching handle

Polyurethane bushings

Side to side dampening

Fits industry standard mounting rails

Fully articulating head allowing front to back and side to side pivoting

Four vertical adjustments from 16" to 19"

4" of front to back adjustment

Easy to reach cam action handle

Fits all standard mounting rails

16,000 lbs GTW

4,000 lbs VTW

Made In America by Real Americans