California RV Specialists Is one of only a few qualified companies in the state that specialize in Recreational Vehicles. We provide Dish and Directv as well as specialty antennas for RV's from Winegard and King Controls as well as work within RV's to provide a personal touch to your experience.
If you're an RV owner in the Northern California area, don't get shuffled around at the big box stores or dealers. Get the kind of personal service and custom installation you deserve. Call California RV Specialists!
Satellite TV in your RV is as easy, flexible and enjoyable as it is in your home with the Winegard TRAVLER™ automatic multi-satellite antennas.  TRAVLER™ antennas are able to view multiple satellites simultaneously to provide you with the most comprehensive viewing experience available.
Built on a re-engineered mechanical platform The TRAVLER's stable base provides uninterrupted signal acquisition during strong winds and adverse weather conditions
Manufactured with approved DIRECTV® and DISH Network™ Reflectors Fully automatic antennas provide the highest signal strength on the market and gives you everything DIRECTV® and DISH Network™ have to offer.
View up to 5 satellites at the same time Watch programming from up to 5 satellites, all at the same time, just like in your home. No extra switches or converters needed.
Fully HD-Ready If HD is important to you, TRAVLER™ antennas are HD-Ready and do not require any add on accessories other than an HD receiver and HDTV, sold separately.
Bell ExpressVU customers purchase the TRAVLER™ DISH 1000 model SK-1000 for access to multi satellite Bell ExpressVU programming.

KING JACK™ DIRECTIONAL OVER-THE-AIR ANTENNA WITH MOUNT & BUILT-IN SIGNAL METER.
Product Overview
KING Jack™ next generation, over-the-air HDTV antenna
Long-range signal acquisition (get more channels!)
Built-in KING SureLock™ signal finder for simple signal acquisition
Amplified, ultra-high gain antenna
Upgraded technology enhances UHF signal reception while still receiving remaining VHF broadcast channels
Broader reception coverage quickly locates strongest signal and maximizes reception
Simple, fast antenna pointing with 360-degree rotation
Easy installation and replacement of your old antenna, no matter your roof thickness
Compact, aerodynamic design minimizes wind resistance and is up to 70 percent smaller than traditional RV antennas
Always ready for travel – no need to crank up or down
KING ONE PRO PREMIUM SATELLITE ANTENNA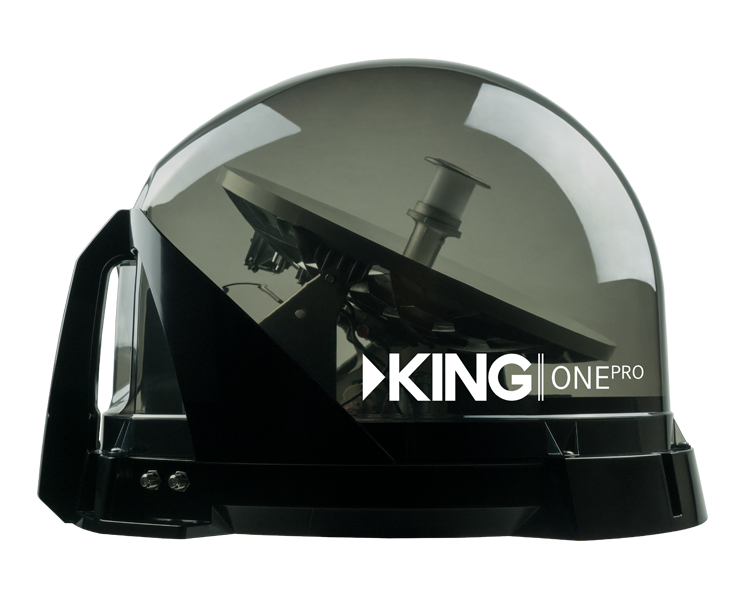 Product Overview
NEW! Premium satellite TV antenna for all providers: DIRECTV®, DISH® or Bell™ (Canada)
EXCLUSIVE! Automatically configures for U.S. satellite service – No DIP switches
EXCLUSIVE! Patented self-leveling design
Ultramodern, clear cover – Always know where your antenna is pointing
Portable or roof-mountable (no foot kit needed)
Supports multiple TV viewing* – Features dual outputs for up to TWO receivers
Lightweight, compact design with integrated handle
Metal chassis is stronger and more durable than plastic
Weather-resistant materials withstand extreme heat/cold
Antenna powered over coax cable
Includes 50 feet of coax cable with connectors pre-installed and a power inserter