Why choose RV Battle Born Batteries? California RV Specialists offers a variety of options when it comes to RV batteries, we provide battery sales and battery installation of the lithium Battle Born Batteries for the following reasons!
They Last 10 Times Longer than Lead Acid
Even after 3000 – 5000 life cycles Battle Born Batteries retain 75 – 80% of their original capacity. For most users, it will take 10 to 15 years to reach this amount of life cycles.
2 to 3 times more power
Their batteries will supply you with two to three times the power in the same physical space of a lead acid battery.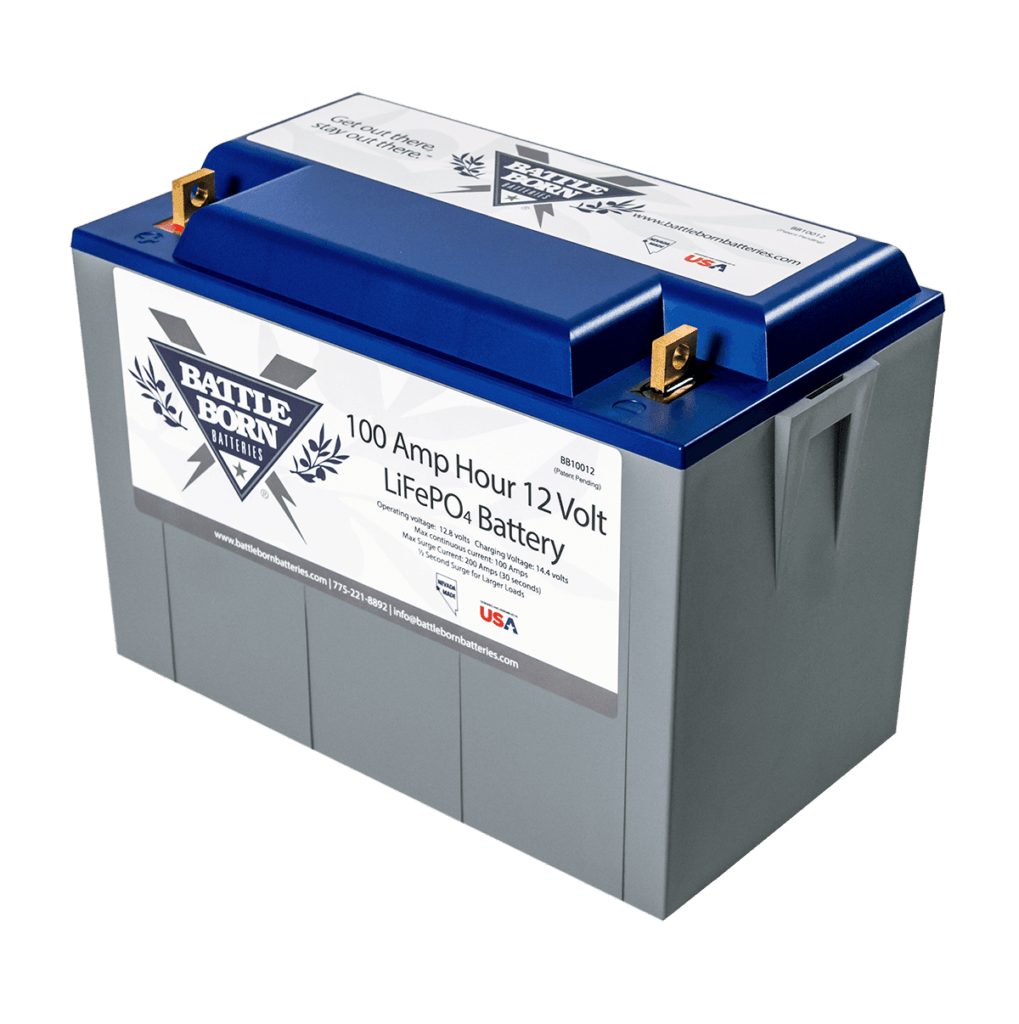 Charge 5 Times Faster
With a high charge rate of half of your total bank and short absorption times, your batteries will charge in a fraction of the time of a lead acid. This faster charge rate allows you to use your generator less which means less fuel consumption, less noise, and less pollution.
High Discharging Capabilities
Their 100 Ah batteries provide a continuous 100 amps of power, surge of up to 200 amps for 30 seconds and even higher loads for a ½ second.
Efficient and High Performance
Their batteries have virtually no internal resistance and will not heat up or swell when charging or discharging. We also have a real power rating so whether you're using 1 amp for 100 hours or 100 amps for one hour, you will receive the full amount of power your batteries are rated for. With a very flat discharge curve, power remains much more consistent with Battle Born Batteries even at a low state of charge.
Environmentally Safe and Non-Toxic
One lead acid battery can contaminate acres of municipal waste, but Battle Born Batteries are not toxic and are made with the safest lithium chemistry on the market. This allows you to place them anywhere in your rig whether it's under a bed, a dinette, or even a small enclosed area without the fear of our batteries "off gassing" like lead acid.
Lighter
Their batteries are ½ to ⅔ the weight of a standard lead acid battery with more deliverable power.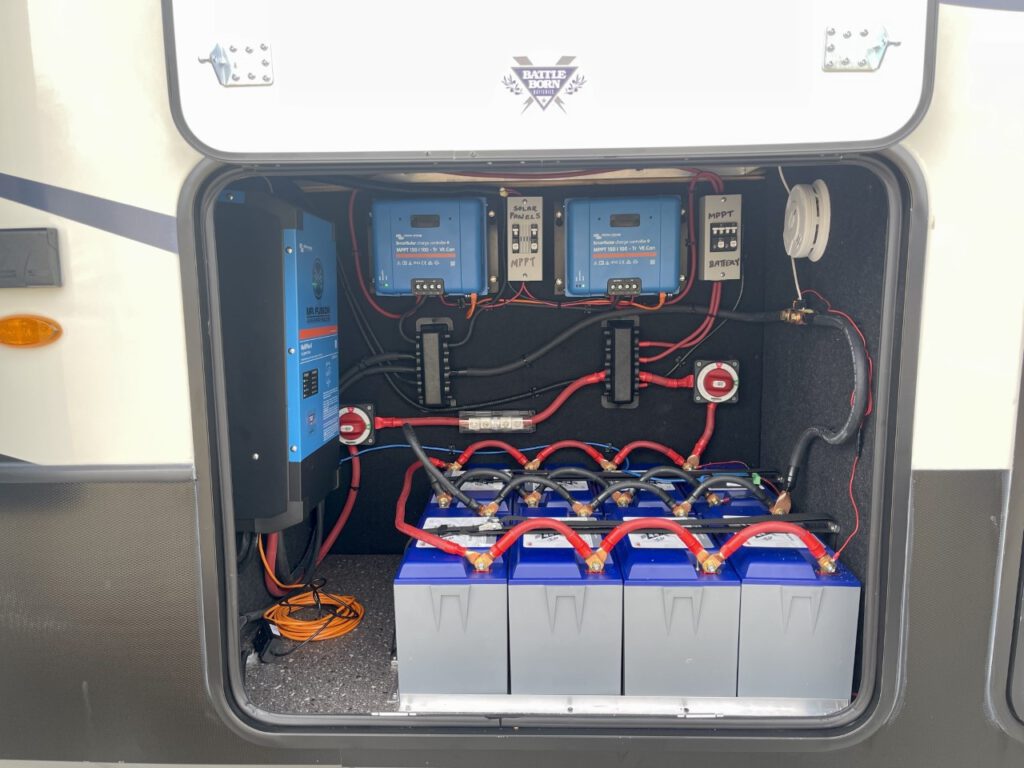 Maintenance Free
Battle Born Batteries have a built-in management system to help protect you and your investment in the batteries in any strenuous situations such as high/low temperatures, high/low voltages, current surges, and short circuits. They also can be placed in your system with zero maintenance, so you no longer have to worry about adding water to your batteries or cleaning corroded terminals. Our batteries also have a very slow self-discharge rate so they can be left in storage for over a year without requiring you to hook them up to a trickle charger.
Customer Service
They employ a team of USA-based experts at Battle Born Batteries to help with your customer service, sales and technical needs. Our industry-leading team utilizes clear communication via phone and email, along with product knowledge and problem-solving skills to assist with any questions you may have along the way. Whether you're looking to upgrade your batteries, a complete power system or anything in between our team can provide the expertise needed to guide you through a lithium conversion. Feel free to contact their team at (855) 292-2831 or info@battlebornbatteries.com.
10-Year Warranty
They believe in their batteries and we want you to believe in them too. That's why they ship every battery out with a 10-year warranty. If you have a problem, they want to fix it as quickly as possible so you can go on your next adventure!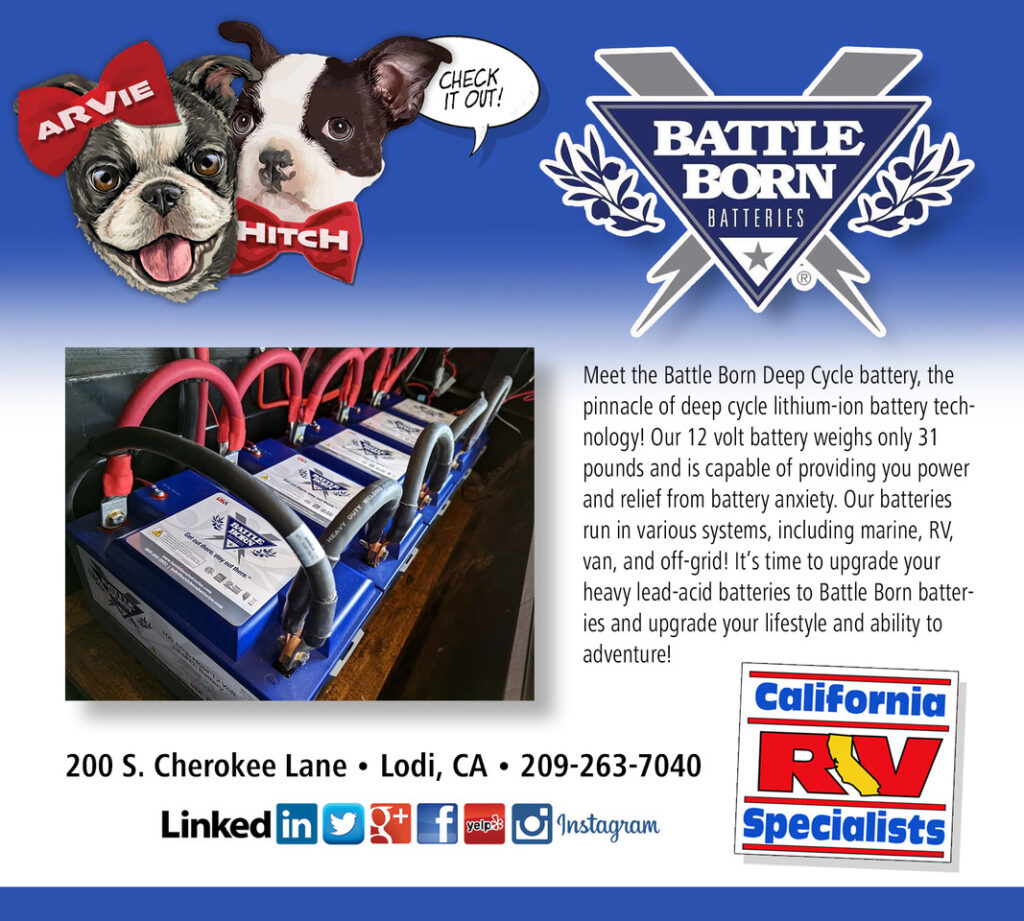 Excellent Solar Systems
Battle Born Batteries allow you to take full advantage of solar by creating fast charging and fully sustainable power systems with a variety of applications.
What does "drop-in replacement" actually mean?
Battle Born Batteries are drop-in replacements for typical lead acid batteries. This means that Battle Born Batteries are designed to fit like a normal Group 27, 31 and GC2 battery in your bank.
How long do Battle Born Batteries last?
Battle Born Batteries come with a 10-year warranty (8-year full replacement manufacturer's defect warranty and 2 years prorated).
They are designed to last 3000 – 5000 cycles, at which point the battery will still hold 75 to 80% of its energy capacity.