California RV Specialists sells and installs all the top towing packages, braking systems, tow bars, base plates and wiring kits in the industry. Stop by and ask us about which tow package is right for you, we are here to help guide you with both sales and installation process.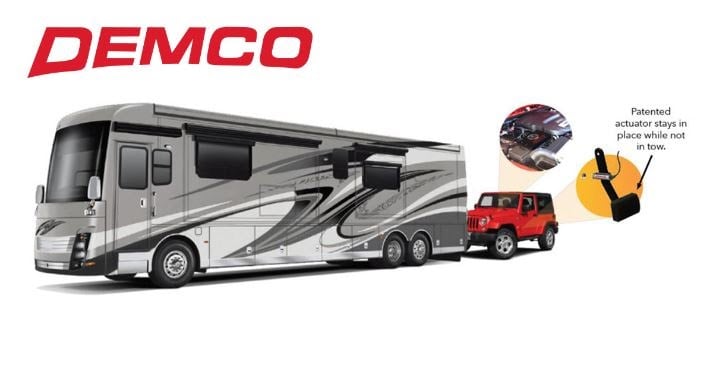 WHAT IS IN A BASIC TOW PACKAGE:
Tow Bar – This connects the motorhome to the car.
Braking System – The law varies between states, but in California a braking system is required when towing a vehicle over 1500lbs.
Base Plate – The tow bar is pinned into the receiver of the motorhome and connects to the base plate which is installed behind the bumper of the tow car.
Wire – The vehicle is wired to make the lights work in conjunction with the signaling of the motorhome.
Accessories – Essential products for flat towing.
Labor – It takes 16 -24 hours to install these items; our labor rate is $175 per hour.
SO HOW MUCH DOES A FLAT TOW SETUP COST?
On average, a flat tow package price can range anywhere between $7,000.00 – $10,000.00; depending on what is needed to make your vehicle towable.
Tow Bars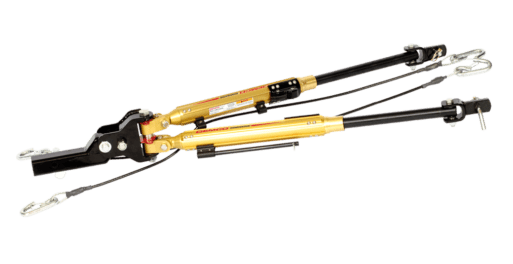 The Dominator Tow Bar
How can something that weighs only 30 pounds handle towing cargo that weighs nearly 4 tons? The Dominator does just that with its towing capacity of 7,500 pounds. Click here to see how it can also fold nicely for easy storage, how its safety cables won't have you worrying about your shins or dragging and how your entire towing experience can become… well… dominant.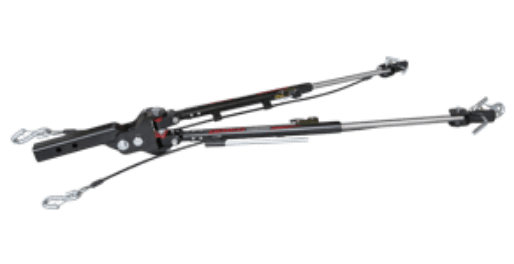 The Commander 2 Tow Bar
Are you ready to take full command of your RV towing experience? Let us introduce you to the Commander 2, packing 6,000 pounds of raw towing power into a neat 41-pound package. You can also take command of your hookups and disengagements, as the Commander 2 comes with independent arms that make these processes a snap.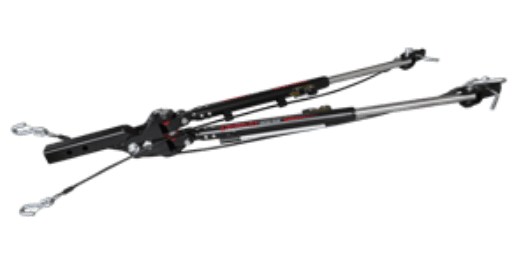 The Excali-Bar 3 Tow Bar
Are you a contortionist? Have you ever won a limbo contest? If not and you drive an RV that tows a vehicle, you need to click through to take a closer look at the Excali-Bar 3 from Demco Products. This little powerhouse weighs only 46 pounds, but can handle 10,500. The arms are independent, so you can remove one to step towards the other. The towing angle is also adjustable, ensuring a smooth ride.
Braking System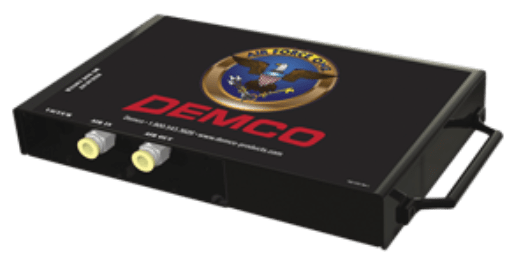 Air Force One Braking System
Our Air Force One supplemental braking system is a truly innovative, one-of-a-kind standard for its industry. With safety and efficient design in mind, it's the only air brake that meets DOT and chassis regulations. Air Force One's straightforward application makes it ideal for cars and motorhomes without the hassle of pulleys, catches or springs.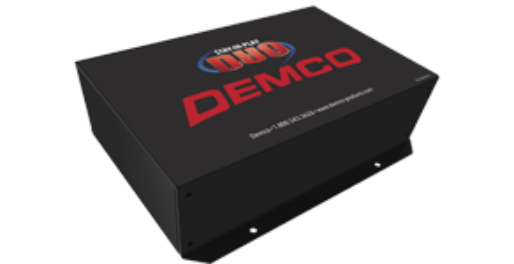 Stay-IN-Play DUO Braking System
An ideal supplemental braking system for every car and motorhome with a hydraulic braking system, the Stay-IN-Play DUO uses Demco's patented technology to create a dual-signal system (brake lights and inertia) for progressive brake activation. This results in faster, more precise signals between the motorhome and towed vehicle for additional safety, longevity and easy handling.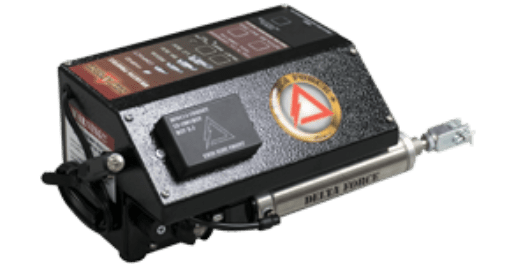 Delta Force Braking System
The Delta Force is our universal, portable solution for motorhomes everywhere. With a flexball actuator mount and set-it-once pedal clamp, set-up is simple without any additional fuss. With the same accurate dual-signal (brake lights and inertia) of our Stay-IN-Play DUO, you can expect smoother, accurate breaking with the additional benefit of it being 75% smaller than competitor models.
Base Plate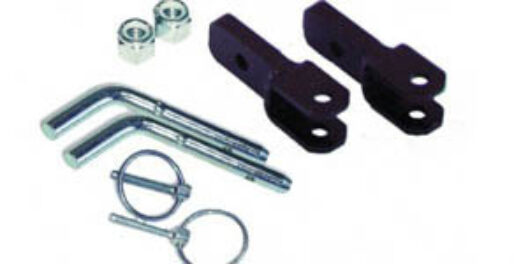 Tow Bar Baseplate Adapters
Our baseplate adapters attach a Demco tow bar to other manufacturers' baseplates or attach a Demco classic baseplate to other manufacturers' tow bars. Sturdy, simple to install and easy to remove, these baseplate adapters allow you to interface your Demco products with any other mounting solution, including Roadmaster, Duncan, Reese and Tow Champ.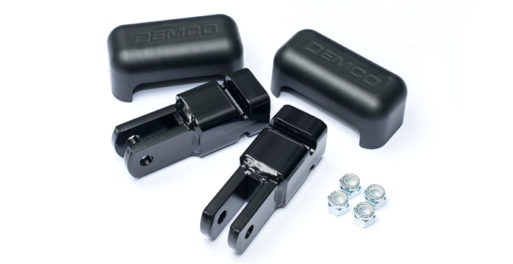 Tow Bar Tabless Baseplate Adapters
Demco tabless baseplate adapters allow you to adapt a Demco base plate to other manufacturers' base plates with ease. Rigid, sturdy and built to last, our tabless baseplate adapters fit Blue Ox and Kwik-Tow baseplates. Note that Roadmaster tow bars (including Tracker, Sterling All-Terrain, Black Hawk 2 All-Terrain and Falcon All-Terrain) do not need an adapter.
Wiring Kits
Tow Vehicle Wiring Kits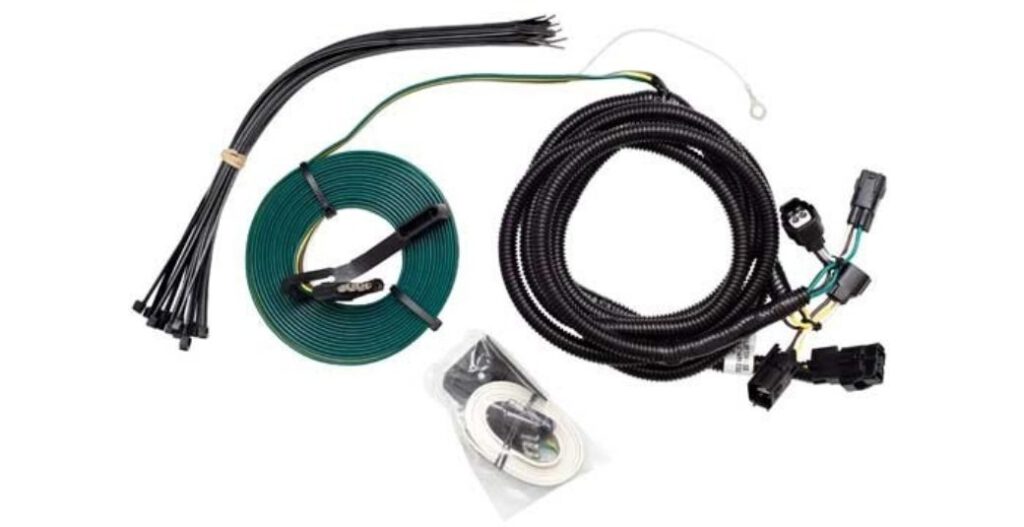 The Industry's Best Direct Plug-in Electrical Hookup for your Towed Vehicle.
Diode System Combo Kit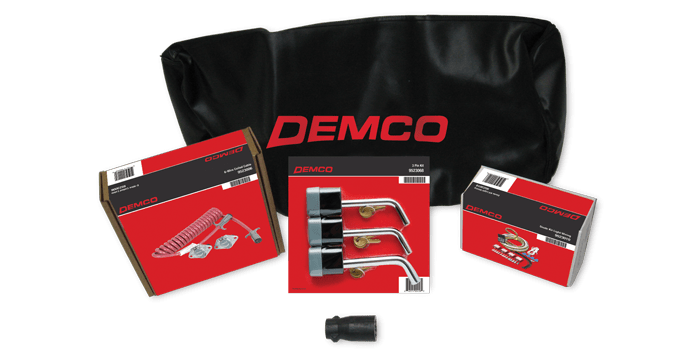 6 Way Coiled Lighting Cable
Diode Wiring Kit
Marine Grade, Vinyl Demco Storage Cover
Three Pin Locking Kit
7 to 6 Way Adapter
Tow Wiring/Diode Kit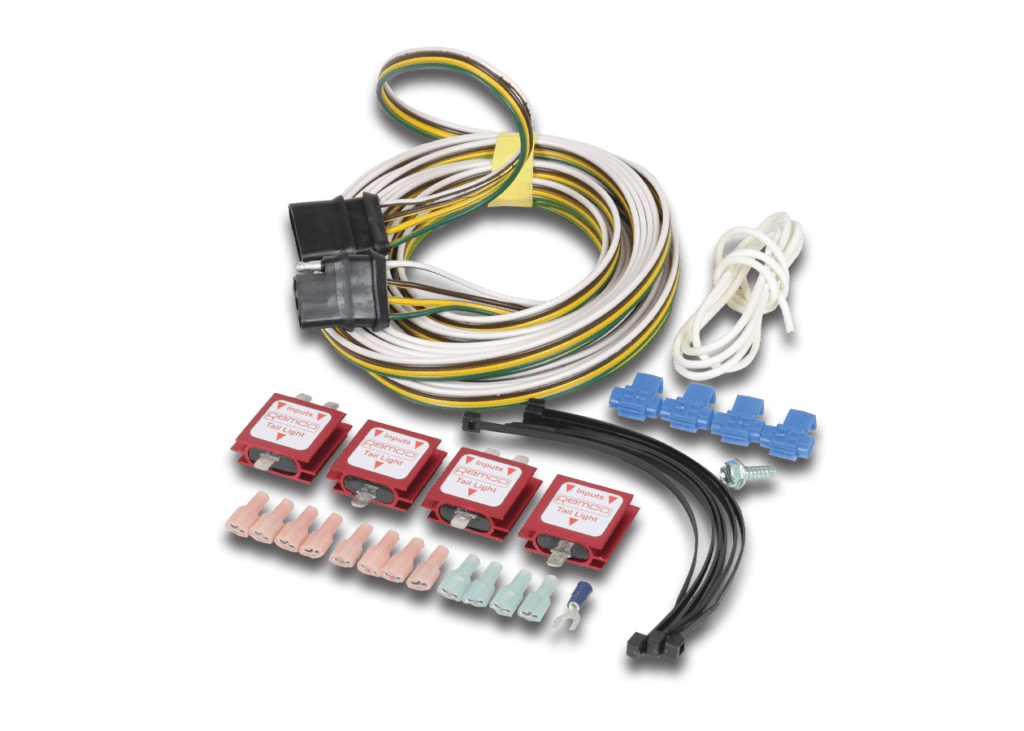 Heat-sealed diodes to connect your motor home's running lights, turn signals and brake lights to your towed vehicle
These diodes prevent the back flow of electrical feedback to protect both vehicles' electrical systems.
All the necessary hardware comes with each kit to include: 4 heat sealed diodes, 26' 4-conductor 16ga wire, butt connectors, ring terminals, nylon ties and wiring instructions.
Bulb Tailight Wiring Kit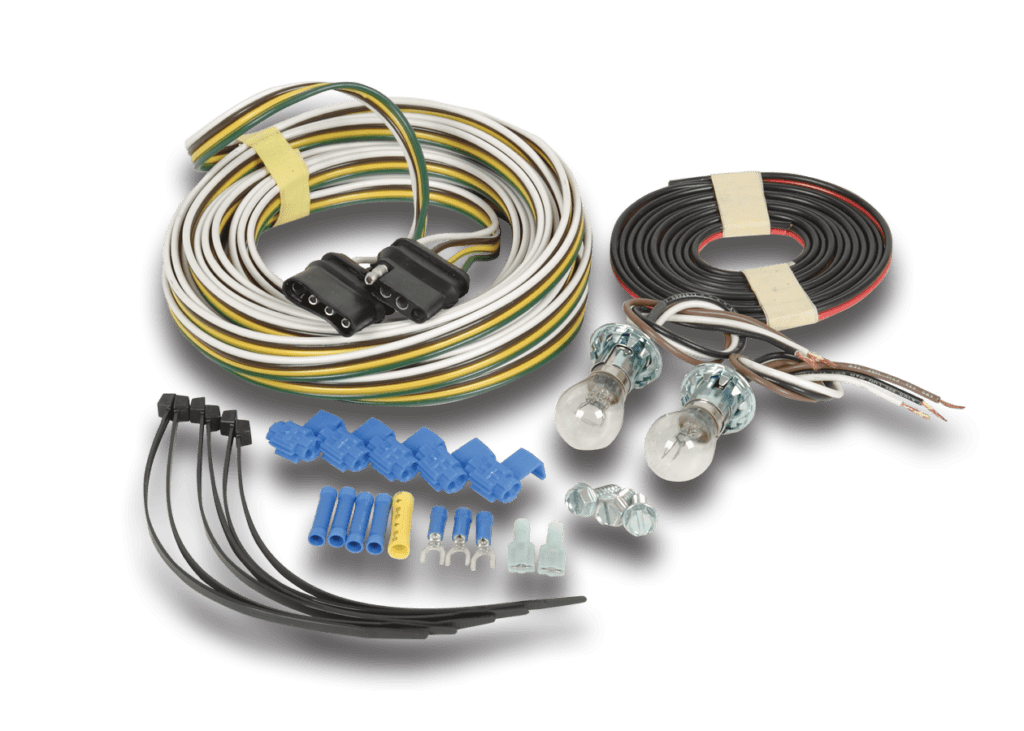 Self contained wiring kit is designed to by-pass your towed vehicles' proprietary wiring system
Eliminates the need to tap into the towed vehicle's electrical system
Wiring is routed underneath the towed vehicle to a front mounted socket at the front of the car
Kit includes: Bulbs and sockets, 26' 4-conductor 16ga wire, Butt Connectors, Ring Terminals, Nylon Ties and Wiring Instructions
Wireless Led Light Bar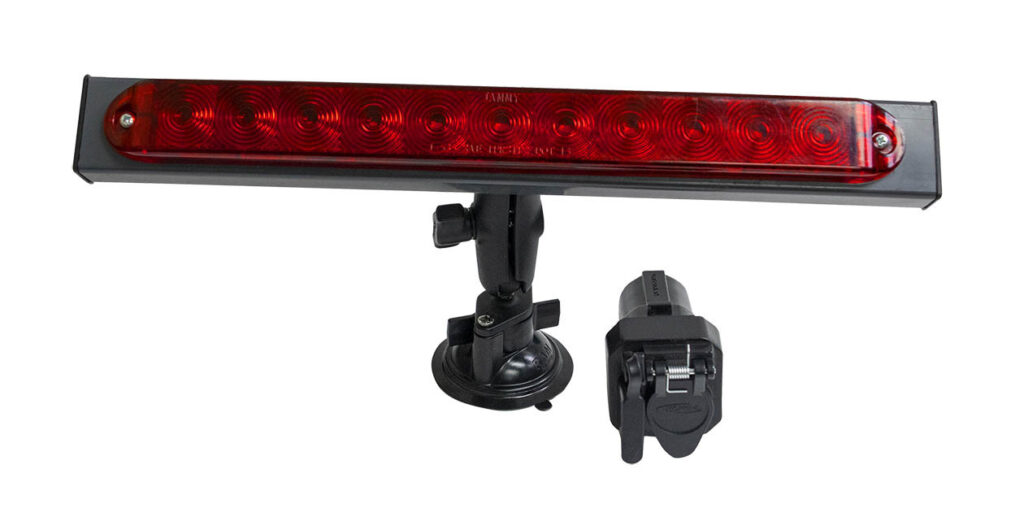 No cutting and splicing into your vehicle wiring
No wires running from the coach to the towed vehicle
Wireless technology
Transmitter and Light Bar are paired to eliminate interference
Transmitter plugs into the 7 way plug on your coach
The Light Bar mounts in the rear window of the towed vehicle are powered by a 12V port from the towed vehicle
Flex – Coiled Wiring Cables
Expandable coiled wiring cables that connect the electricity from the motor home to the towed vehicle.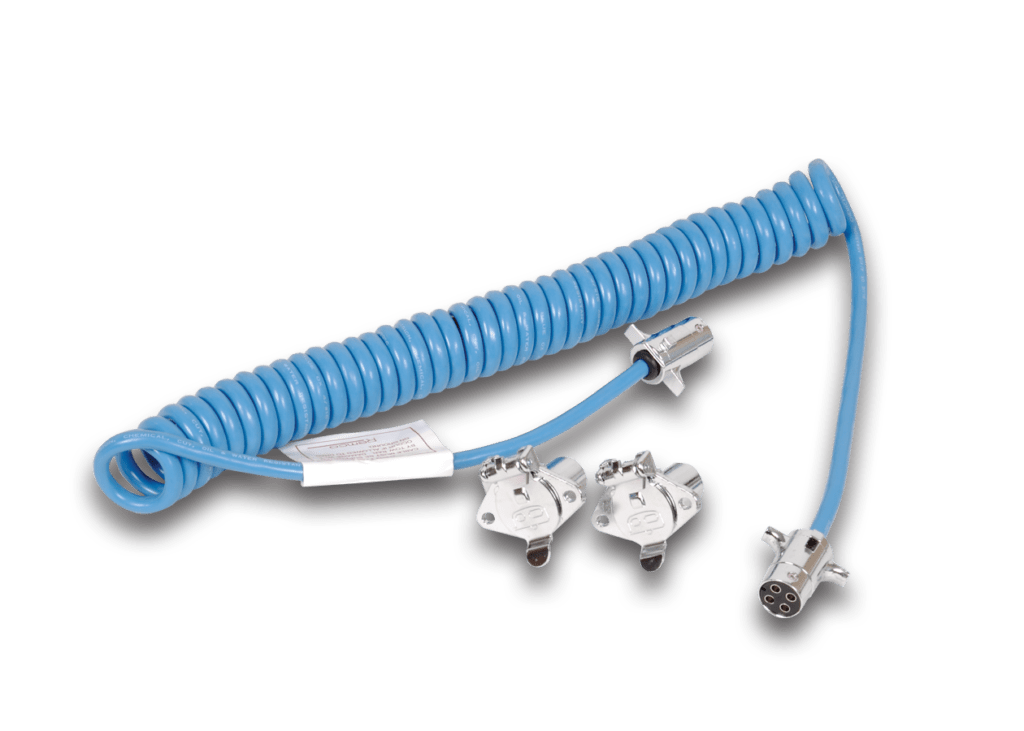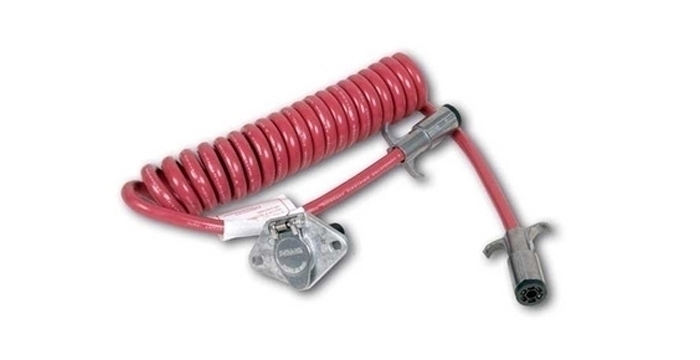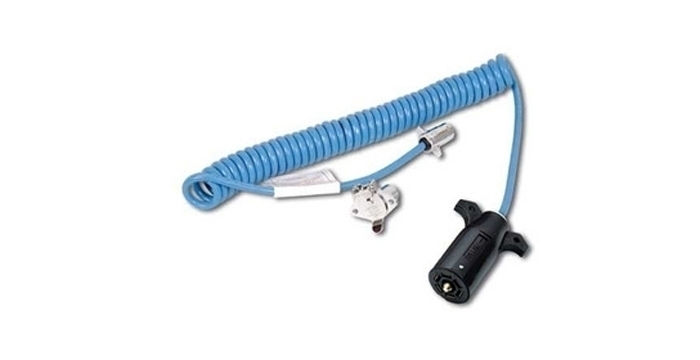 Safety Cables
All cables are strength tested at 7000 lbs.
All cables are rated at 14,000 lbs. when used in tandem.
Cables are vinyl coated to protect the tow bars.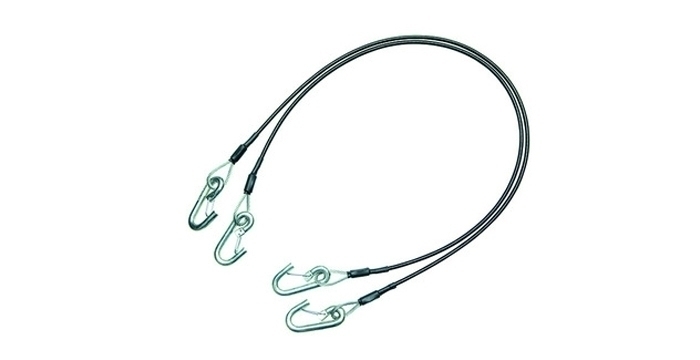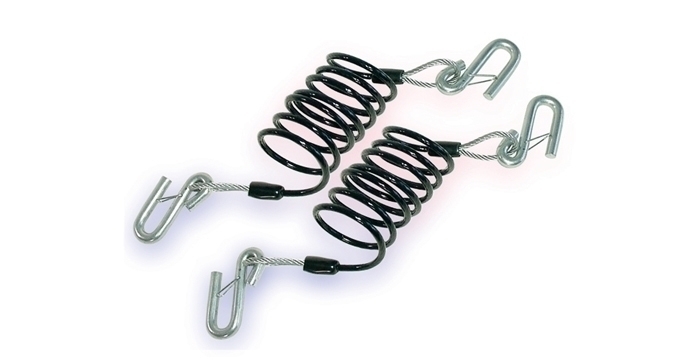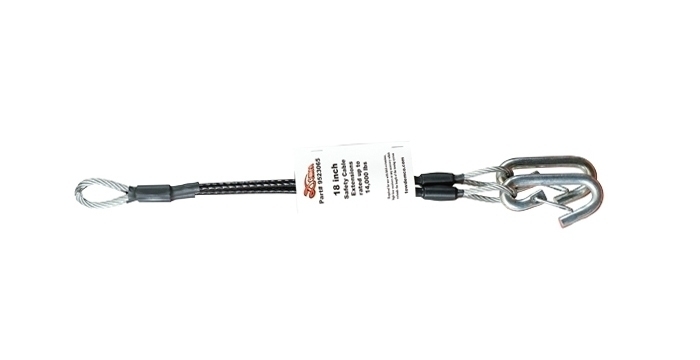 Drop/Raise Receivers
Aid in achieving the proper towing height and can be turned up or down to solve the "out of level" towing situation.
Designed using Finite Elemental Analysis (FEA).
Tested to 10,500 GVWR and up to 100 lbs. tongue weight.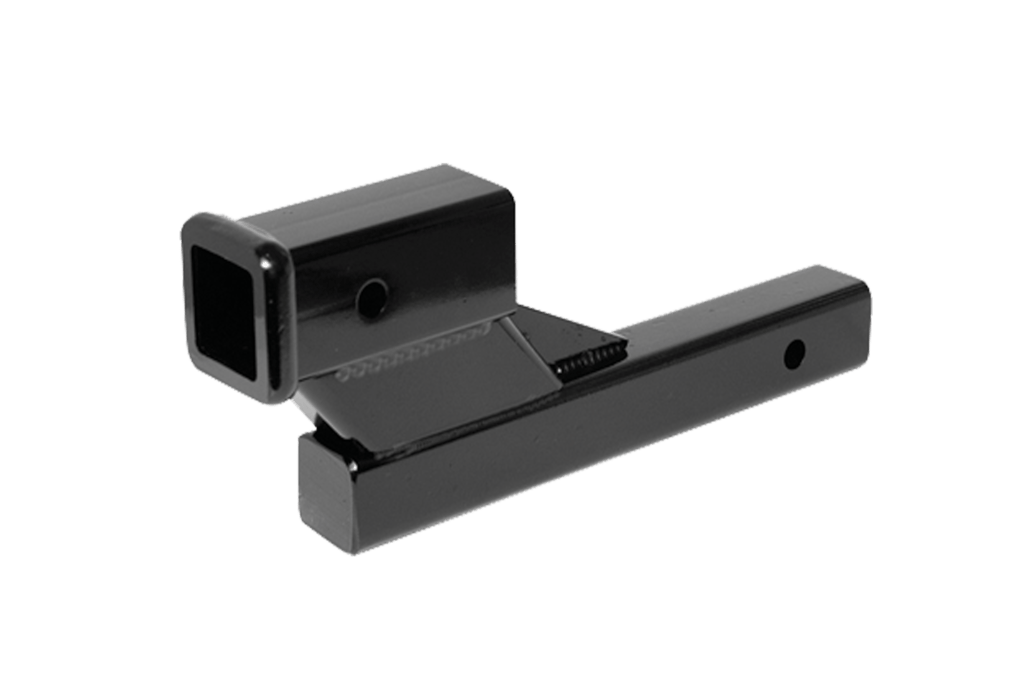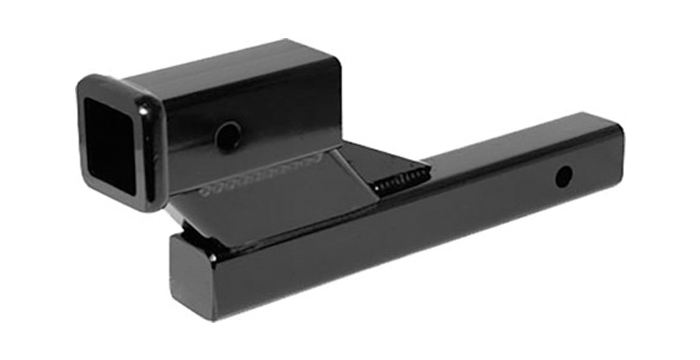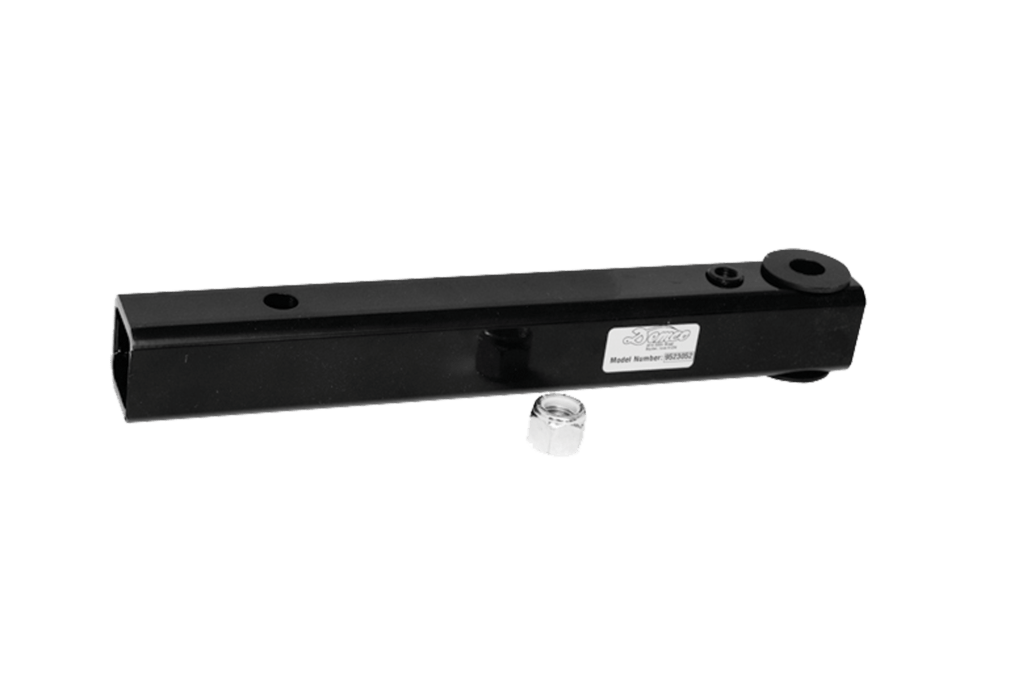 Accessory kit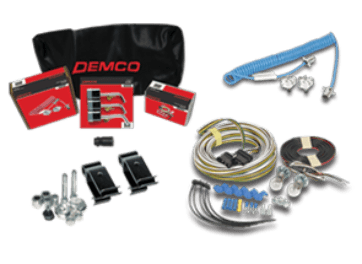 Tow Bar Accessories
It's always those "little extras" that make all the difference, isn't it? When it comes to tow bars, pins, light bars, safety cables, storage covers or other things that you may need given your individual situation. Take a look at what Demco Products has to offer in terms of our tow bar accessories to complete each and every towing experience.
Tow Bars Deflector
Sentry Deflector
Elements like loose gravel, road tar and other road debris get hurled at high velocity toward your towed vehicle. The Sentry® tow bar deflector is constructed of resilient, high density polyethylene and is attached to the connecting ears of the Demco tow bar.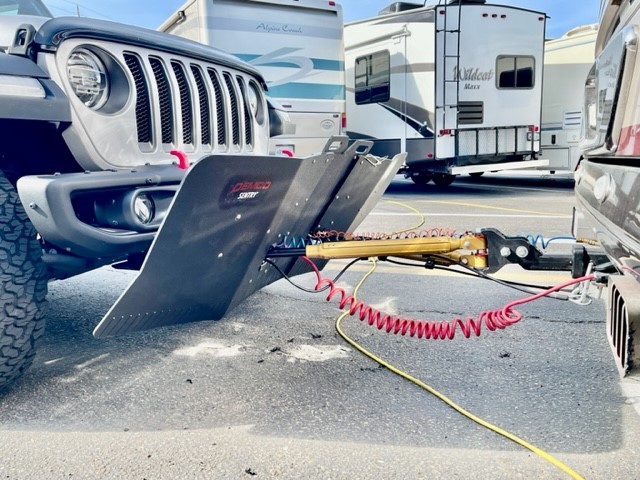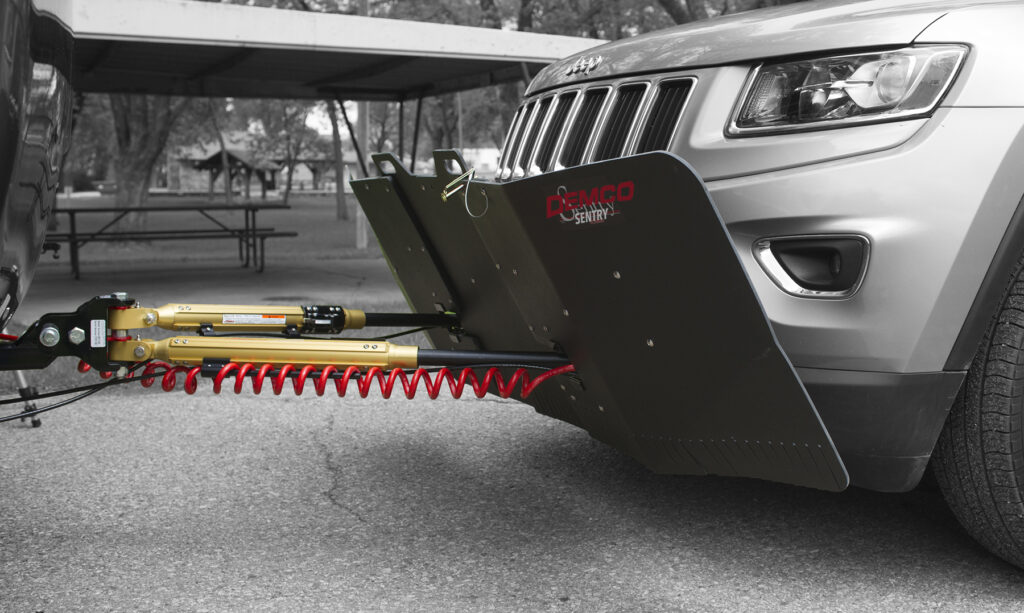 Unique Position And 30 Degree Angle Deflect Debris Down And Away From Your Vehicle. Messy Cleanup And Costly Paint Chip Repair Are Minimized
High Density Polyethylene Retains Its Shape And Takes Destructive Abuse
Lightweight, But Strong, The Sentry® Deflector Is Durable, Yet Pliable And Flexible
Fringed Bottom Edge Allows More Flexibility – Minimizes Damage To Deflector Caused By Curbs And Extreme Dips And Bumps
Easy To Install Or Remove
Limited 1 Year Warranty