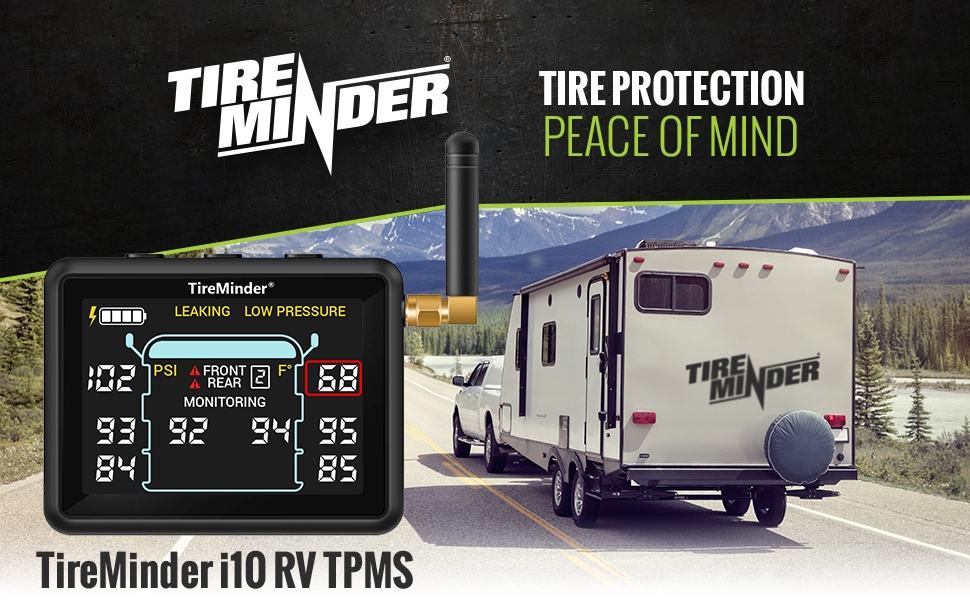 Prevent tire blow outs in your RV!
In most cases when a tire is about to blowout it will start to rapidly lose air, With a TireMinder system the monitor will beep at you letting you know that a tire is loosing air, That will give you time to pull over safely before your tire blows out saving you from a bad situation and costly repairs.
TireMinder offers a variety of systems, Below is a few of our most popular systems that our customers have us install on a weekly basis.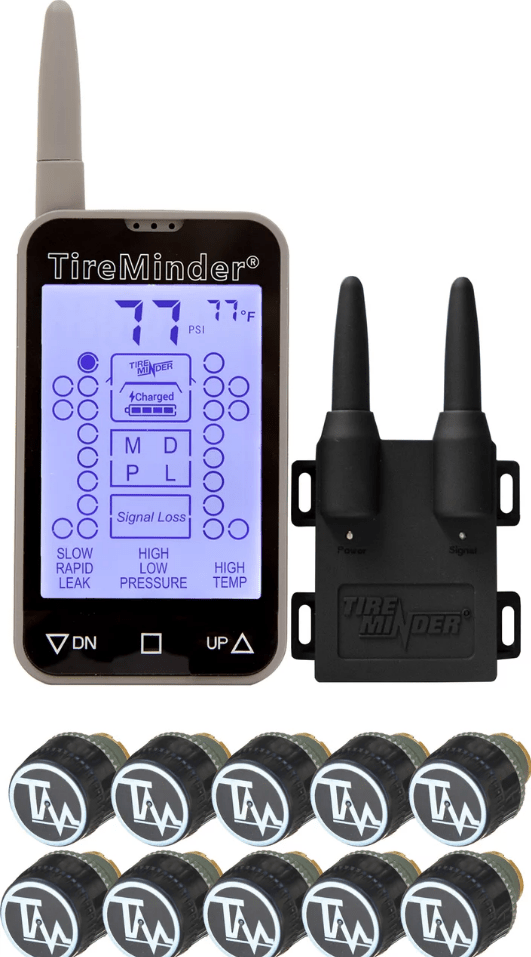 TireMinder TM-77 Tire Pressure Monitoring System (TPMS) with 10 Transmitters for RVs, MotorHomes, 5th Wheels, Motor Coaches and Trailer (TM-77-10)
The New TireMinder TM-77-6 Tire Pressure Monitoring System features updated software and a large display to make monitoring your RV, Motorhome, 5th Wheel, Motor Coach, or Trailer easier than ever.
Large, crystal-clear 3.25" display Monitors up to 22 tires (0 to 232 PSI) Visual, audible, and blow-out alarms Checks for tire issues every 6 seconds Low-/high-pressure and high-temp alerts
Watch the video below to know why the TM-77 is the best TPMS for your RV!
System Features:
Large, crystal-clear 3.25″ display
Monitors up to 22 tires (0 to 232 PSI); extra transmitters sold separately.
Simultaneous pressure and temperature readings
Automatically scrolls through each tire position with the push of a button
Multi-Vehicle Disconnect (MVD) allows for up to 3 separate vehicles to be added and exchanged in just a few clicks
Upgrade High Power Antenna
Visual and audible alarms
Blow-out alarms
Signal booster included for optimal signal strength
Transmitters check for tire issues every 6 seconds
Transmitters send updated pressure and temperature readings every 4 minutes (if no issue found)
Fast and slow leak alerts (3 PSI or more in 2 minutes or less and 6 PSI or more in 10 minutes or less)
Low- and high-pressure alerts (15% below baseline and 20% above baseline)
High-temperature alert (alerts at 167° F)
Replaceable CR1632 batteries
Rechargeable monitor with battery indicator
Single-action memory delete
Auto-Search function allows the TM-77 to receive updated pressure and temperature readings at a push of a button
Rapid Connect
Lightweight 0.5-oz. transmitters
Free Manufacturer Battery Replacement through 2022
Free Battery Exchange Program – For more information, click here.
Award-winning customer supportKit Includes:
1 TireMinder TM-77 Monitor
6 TireMinder Brass Transmitters (for use with brass or steel valve stems)
1 Hard-Wired Signal Booster with Alligator Clips
12 CR1632 Batteries
1 Mounting Bracket
1 Micro USB Cable and DC Charger
4 Locking Nuts
1 Wrench with Valve Core Tool
6 Additional O-Rings
Tire Linc® Tire Pressure and Temperature Monitoring System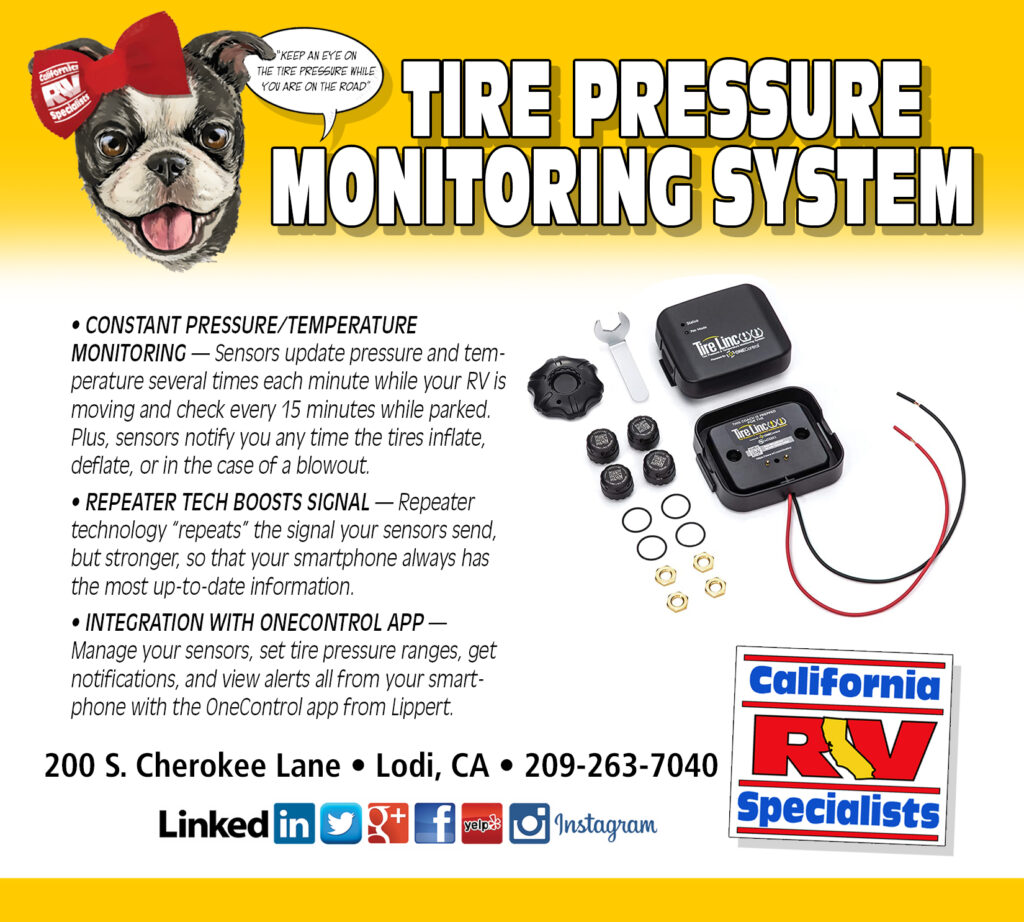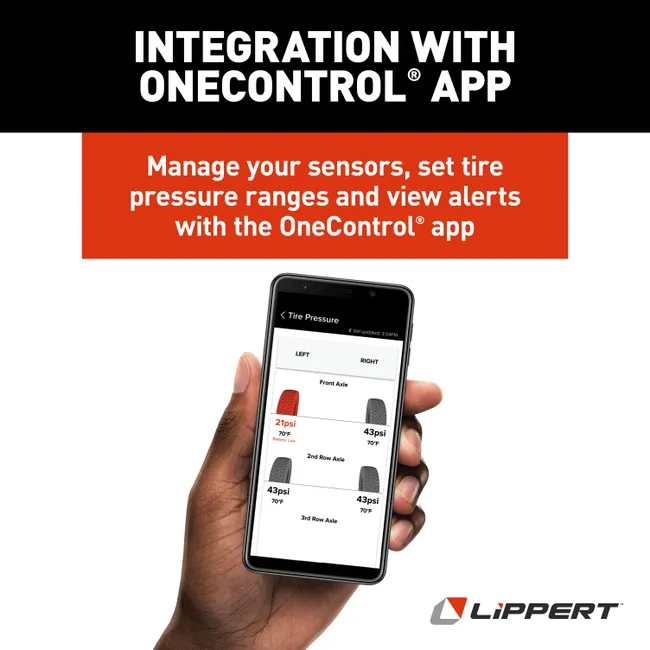 Monitors and alerts drivers of high or low tire pressure and temperature
Easy, do-it-yourself installation
Works with OneControl® app on iOS and Android devices
OneControl® app allows users to enter the manufacturer's suggested PSI range for each tire
Kit includes 4 sensors and can also monitor up to 20 tires simultaneously
Repeater technology strengthens wireless signal in order to easily reach the tow vehicle
Sensors come with CR1632 batteries (replaceable)
Repeater and dock assemblies included