Reasons for RV roof replacement
Physical impact damage from tree branches, rodent or animal damage, lack of maintenance, normal aging, glue failure, and air intrusion. We'll work directly with your insurance company to make the process as pain-free as possible.
Current rates
Labor rates really do depend on where you are located. I'm in California, and the RV repair facilities in my area charge anywhere between $185 – $225 per hour. Additionally, not all RV roof replacements are the same. The number of attachments on the roof (A/Cs, vents, skylights, moldings, etc.), all play a role in the final cost of a roof replacement.
The cost of the roof replacement also depends on how extensive the damage is. Some RV roof replacements can be done without having to replace the wood sheeting beneath the roof membrane, while others will require new sheeting.
It is a common practice for repair facilities to supplement your insurance company. This supplement captures the difference in labor costs, freight fees and anything additional that the adjuster didn't consider during their original estimation.
Roof Replacement
A roof replacement is just that, a replacement of the RV roof.
All items on the roof are removed (A/Cs, vents, TV antenna, satellite, skylights, etc.).
The roof membrane is removed.
The wood sheeting underneath the membrane is then inspected to see if it can be reused or needs to be replaced or overlayed.
A new roof membrane is installed.
All attachments are reinstalled and sealed up.
Full-time RV living and repairs
I would estimate that about 40 percent of my customers live in their units full-time. RV repair is not like Jiffy-Lube. Unless your repair is something small and we have all required parts and supplies on hand, it's rare to have RV repairs completed from start to finish the same day.
For something like a roof replacement, make two appointments with the shop of your choice.
Make one appointment for them to take pictures and measurements for the insurance estimate. This allows them time to negotiate everything with your insurance company and then to order all items in advance.
Make an appointment for the roof replacement.
Some insurance plans may cover all or a portion of hotel accommodations while your unit is being worked on. Lastly, communicate clearly with your repair facility about your living situation, so they can plan appropriately on their end, as well.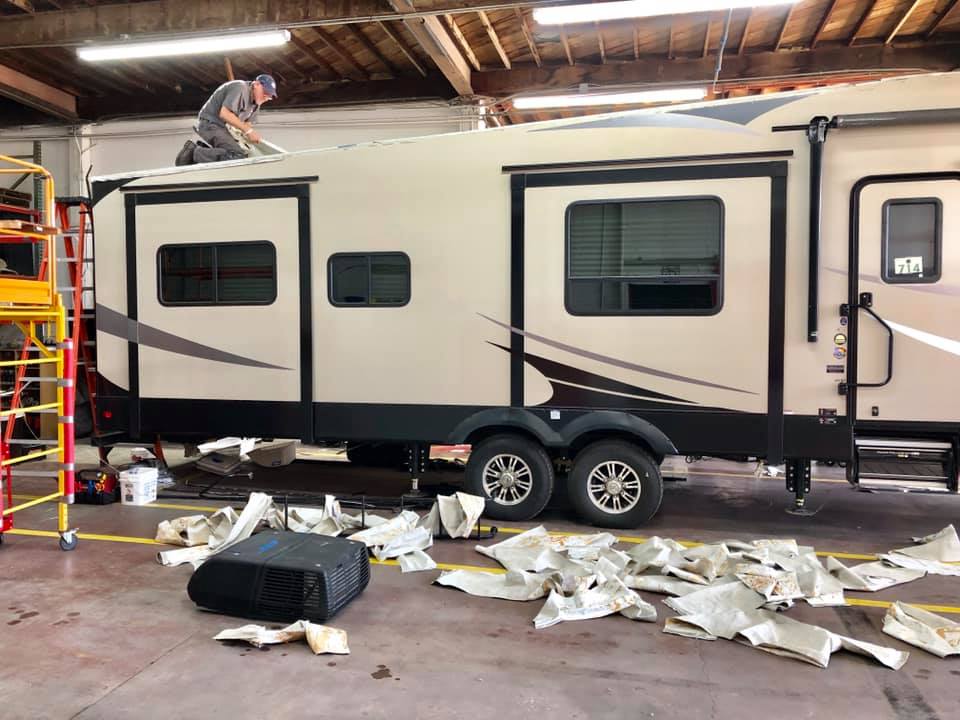 We specialize in all RV Roof maintenance, repair, replacement, and reconstruction.