Put an End to Unwanted Chassis Movement.
Built specifically for 5th wheel RVs and travel trailers, JT's Strong Arm™ Stabilizer Kit by Lippert™ is a must-have for RV owners looking to eliminate their unwanted chassis movement. Designed with the same engineering used for race cars, this stabilizer kit uses the power of triangles to deliver rock-solid stabilization to your RV.
How does it work?
Easy, one end of each stabilizer tube attaches to each landing gear leg and the other to your 5th wheel RV or travel trailer's frame — forming a rigid, strong triangle. This formation gives you a solid, stable camping experience, making your home on the road more comfortable and secure.
This patented system works on all major RV jack assemblies — including, scissor, front landing gear and telescoping. Plus, it's easy, bolt-on installation doesn't require any welding, and you only have to install once. It's tubes telescope into place right with your jacks. So no assembly or dismantling is required after installation.
Each JT's Strong Arm stabilizer tube bolts on to each landing gear leg and to the RV frame, forming a rigid triangle to eliminate unwanted chassis movement and provide a rock-solid camping experience.
TRAVEL TRAILER / 5TH WHEEL – JT STRONG ARM STABILIZER KIT ……. $1000 more or less
Quick Facts
Eliminates annoying chassis movement
Provides a rock steady camping experience
One-time installation/permanently attached
Works with all types of jacks
Bolt-on installation — No welding required
JT's Strong Arm Jack Stabilizer kits come with everything needed for installation
Available Options:

Standard Fifth-Wheel Kit – 58″ and over between landing gear
Short Fifth-Wheel Kit – under 58″ between landing gear
Travel Trailer Kit – does not include pieces for landing gear attachment
Ground Control Travel Trailer
Imagine pulling up to your campsite with the peace of mind knowing you never had to mess with manual jacks and chocks ever again. Sounds good, right? With the Ground Control® TT Automatic Leveling System by Lippert™, that dream can come true. A push of a button is all it takes for this system to level your travel trailer in just a fraction of the time it would take you to do it manually.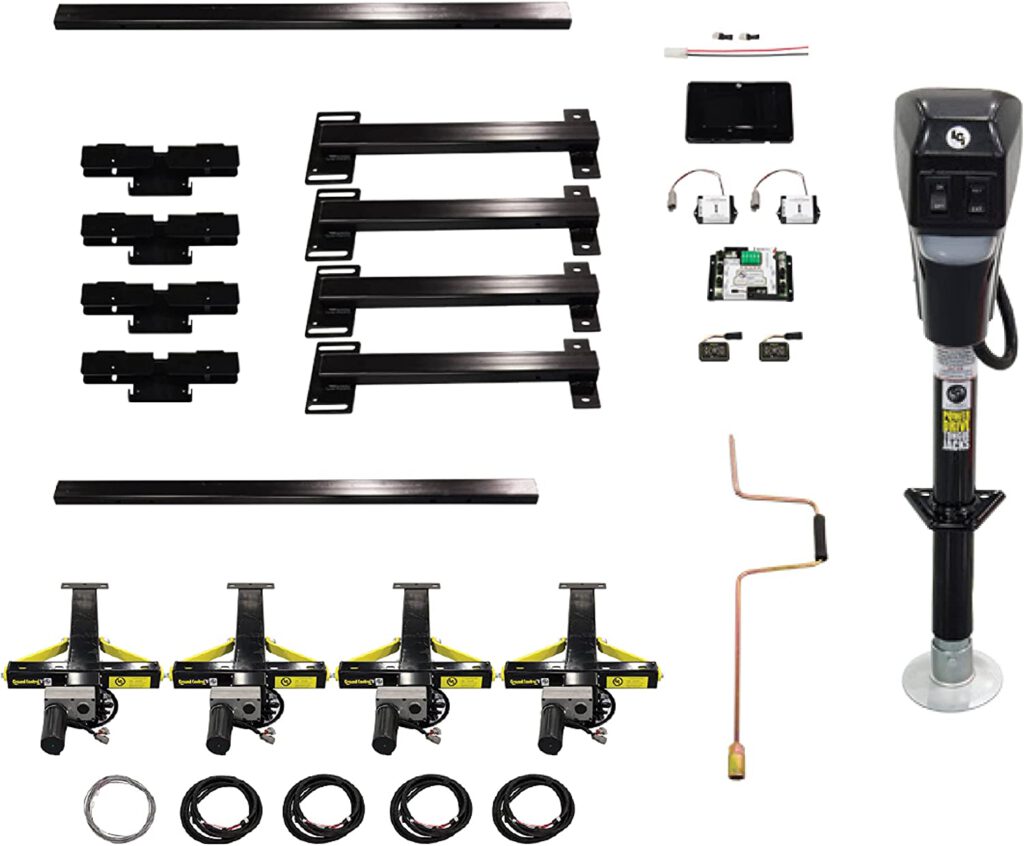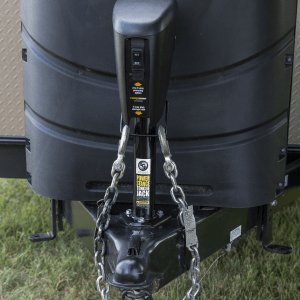 Power Stance Tongue Jack