Another option for towing your vehicle behind your motorhome is using a tow dolly. They are a good option depending on the situation. Not all parks allow them because they take up extra space. But the convenience of taking any vehicle you want and not being stuck to just one is a nice option.
The KarKaddy SS Tow Dolly
Need more space? Fold it!
Perfect solution for RV parks that are not deep enough to accommodate your motorhome and tow dolly.
Fully extended- 133 inches long. Folded- 67 inches long.
Includes disc brakes.
Hydraulic surge brake system for safe and controlled stopping.
Chrome wheels with radial tires and dual safety chains.
Sealed bearing hubs with a 3-year unlimited warranty.
Less than 100 lbs. tongue weight when loaded, for improved ride and handling of tow vehicles.
Total towed vehicle weight: 4,800 lbs. Axle capacity: 3,500 lbs.
Towed vehicle tread width: 42" minimum, 76" maximum.
Galvanized finish. eZ-Latch coupler.
The KarKaddy X Tow Dolly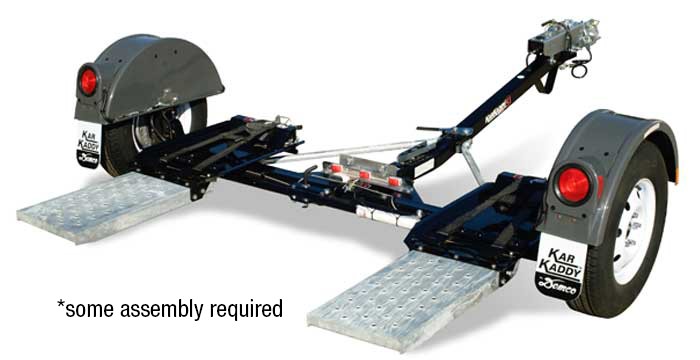 Tows almost any vehicle without adjustments to axles or ramps.
Includes disc brakes.
No bolts to tighten and no heavy components to reposition.
Tilt bed frame with positive automatic relatch locking mechanism for easy loading.
Polyethylene fenders with protected, sealed lights.
Sealed bearing hubs with a 3-year unlimited warranty.
"Sure-grip" galvanized low profile loading ramps and platforms.
Total towed vehicle weight: 4,800 lbs. Axle capacity: 3,500 lbs.
Towed vehicle tread width: 42" minimum, 76" maximum.
Black powder coat paint finish, with hot dipped galvanized components.
Auto-steer makes turns problem-free.
EZ-Latch coupler
Loading a Tow Dolly
Unloading a Tow Dolly