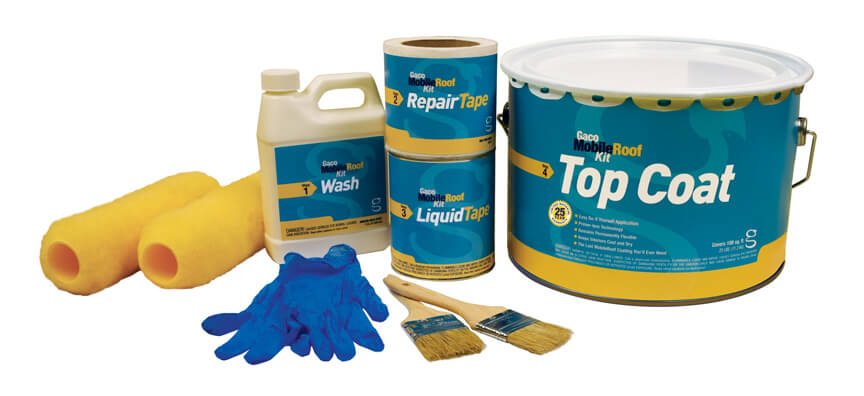 Gaco Roof Coating Kit
The 1st Silicone Solution for RVs and Motorhomes
GacoMobileRoof Kit will put an end to costly and frequent RV roof repair with a complete silicone roof coating system and accessories essential for maintaining the integrity of any aged RV, motorhome, fifth wheel or traveltrailer. Apply to a variety of surfaces, including aged EPDM, aged TPO/ PVC or fiberglass.
Prep and wash the surface, repair penetrations, seal seams, and apply GacoMobileRoof Top Coat to have a roof that lasts. GacoMobileRoof Top Coat protects against degradation caused by harsh UV rays, severe weather and mold or mildew. It will not chalk or blister. The unique silicone makeup of GacoMobileRoof Top Coat remains permanently flexible yet strong enough to withstand the rigors of road travel and high winds without cracking or peeling.
UV STABLE. Resists degradation – will not chalk, crack or peel.
PERMANENTLY FLEXIBLE. GacoMobileRoof will remain permanently flexible, yet strong enough to withstand the rigor of road travel and high winds.
WIDE RANGE OF APPLICATIONS. For use on RV, motorhome, fifth wheeltravel trailer, buses, campers, cargo trailers, horse trailers and more.
25-YEAR LIMITED MATERIAL WARRANTY. It's the last RV roof coating you'll ever need.
California RV Specialists has a 90 day in house only installation warranty and must be brought back prior to 90 days for inspection.