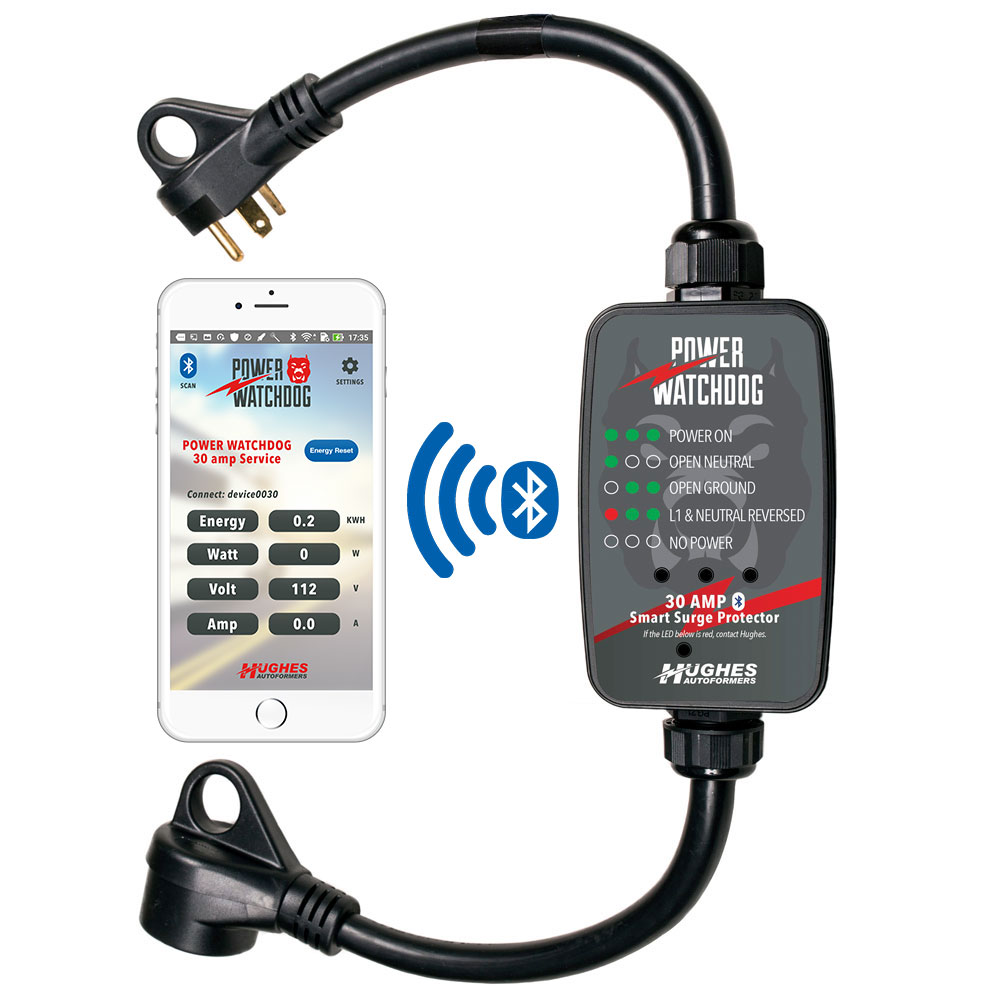 ntroducing the World's First "Smart" RV Surge Protector.
Our new Power Watchdog Smart Surge Protector offers 2,400 Joules of the advanced surge protection for your coach and also has Bluetooth connectivity so you can monitor live park power conditions on your smartphone using our free mobile app.
30 Amp Service (50 Amp is Available)
2400 Joules of Advanced Surge Protection
Wirelessly Monitor Volts & Amps and Watts on your Smartphone in real time!
Complete LED Park Power Diagnostics with Wireless Fault Alerts
Set Custom Alert Thresholds
Replaceable Surge / Spike Module – Should you get hit by a large spike, simply order a new surge module. No need to order a whole new unit.
IP65 rating –  Rugged outdoors rain proof design.
Premium protection from spikes and surges
Mobile app is available for free on iOS and Android platforms
Industry First
Patent Pending
YES, it is compatible with adapter, "dog bone" adapters
Go GLOBAL – WiFi/CELLULAR add on option – www.RVWHISPER.com (monitor unit from miles away!)
3 Year Warranty!
Approximately 33″ long including cables
Unit dimensions 8 1/2″  x  3 3/4″  x  2 3/4″
SPECIAL BONUS OFFER – If your surge module is 'used up' within the first 2 years of purchase, Hughes Autoformers will mail you one FREE replacement. (One free replacement offer only within the first 2 years of purchase. Proof of purchase required, proof of used up surge module also required)
Replacement Surge Module for PWD30 Unit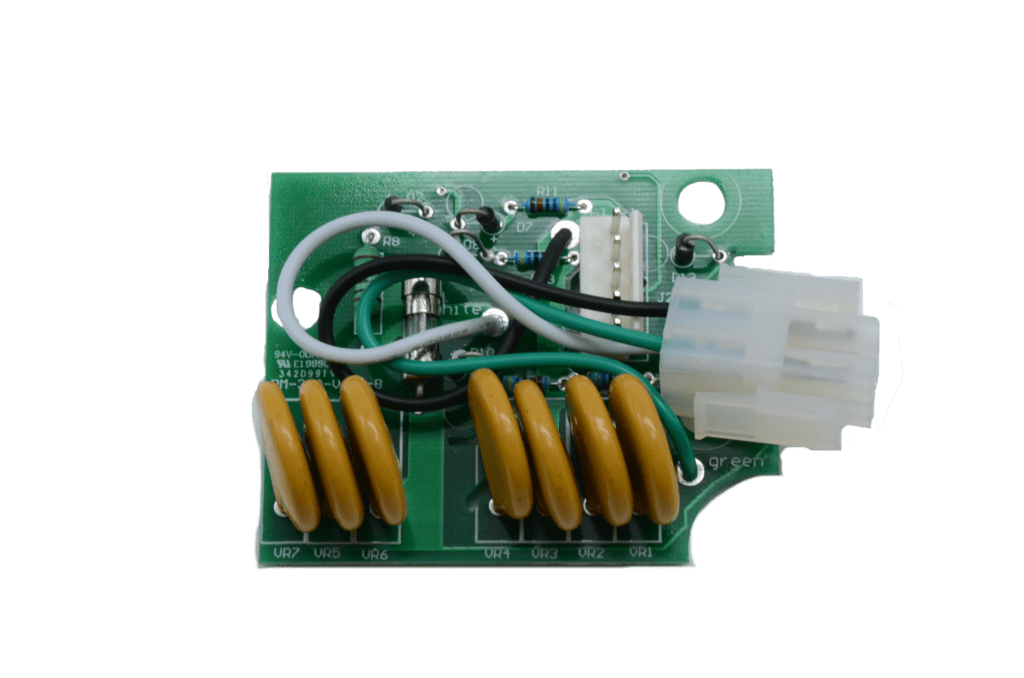 • Replacement surge protection module for the PWD30 unit.               (NOT for EPO version).
• Simple installation – only a Phillips screw driver is needed.              NO SOLDERING
• New 2,400 Joules Surge Protection Module.
INSTRUCTIONS
• Simply unscrew the 8 Phillips screws on the back of the unit. Unscrew the top and bottom cable gland nut. Unscrew the screws holding the old module. Unplug the old/used up surge module from the unit. Connect in the new surge protection module. Replace all the screws and re-tighten the cable gland nuts.
CAUTION!
• Make sure unit is unplugged before installation!
Additional Information
30 Amp Voltage Booster with Surge Protection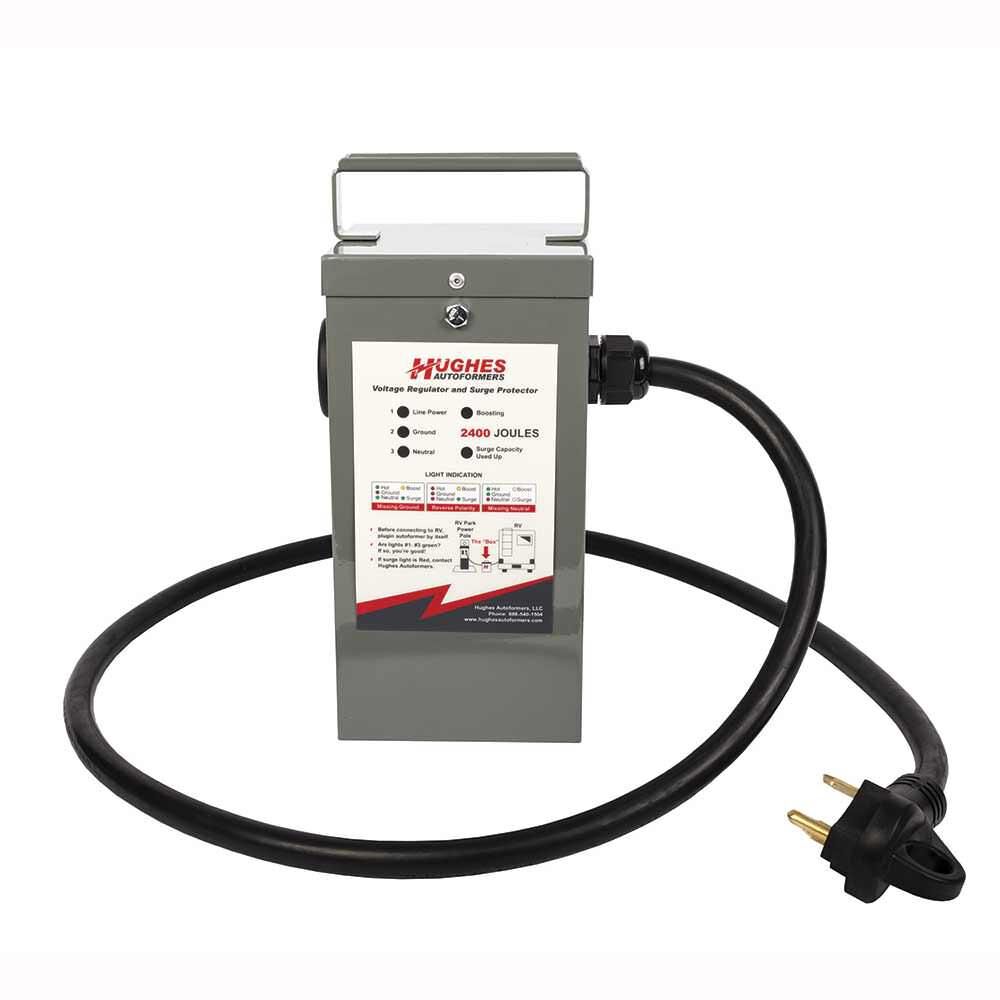 Introducing the World's Only "All-in-One" RV Power Solution.
The legendary, original, and patented RV voltage booster, now with the world's most advanced surge protection.
The all new Hughes Autoformer 30 amp power boosting autoformer (RV2130SP) has the same performance and reliability of the RV2130 but now has advanced surge protection built in! The unit offers 2,400 Joules of surge protection. As an added feature, the surge / spike protection module is also replaceable. In the event of a massive spike, the surge unit will take the hit ensuring your booster and more importantly, your RV is not damaged.
The Hughes Autoformer is the only U.S patented Voltage boosting solution available today. All others are imitations.
The unit automatically starts boosting 10% if the voltage drops to 113 or below. It will boost 10% until the voltage gets to 90 volts which is the minimum amount of volts for the unit.
30 Amp – 3,600 Watts capacity
Fully automatic 10% boost when needed
Complete LED Park Power Diagnostics
Boost indicator light
2400 Joules of Advanced Surge Protection Built-in
Replaceable Surge Protection Module
Voltage Booster & Surge Protection in One Package
Comes with free cable lock to help prevent theft
Size: 12"H x 5 ½" W x 5½" D
Cord length – 4 1/2 feet (approx. 54″) long
Comes with FREE SECURITY CABLE LOCK
Weight: 21 Lbs.
Three-year limited warranty – keep out of heavy rain/water
Made in U.S.A.
Note – Not compatible with park poles with GFCI outlets
YES, it is compatible with adapter, "dog bone" cables
SPECIAL BONUS OFFER – If your surge module is 'used up' within the first 2 years of purchase, Hughes Autoformers will mail you one FREE replacement. (One free replacement offer only within the first 2 years of purchase. Proof of purchase required, proof of used up surge module also required, US only)
Additional Information
| | |
| --- | --- |
| Weight | 21 lbs |
| Dimensions | 10 × 10 × 15 in |