Now that winter is in full swing, it's more important than ever to ensure your RV is watertight. I often see that side seams on RV roofs are neglected. When looking at the roof line edge on your RV, be sure the molding is making good contact with the roof. If the sealant on the side edge is cracked, loose, separated or missing, it's time for some RV roof side seam maintenance!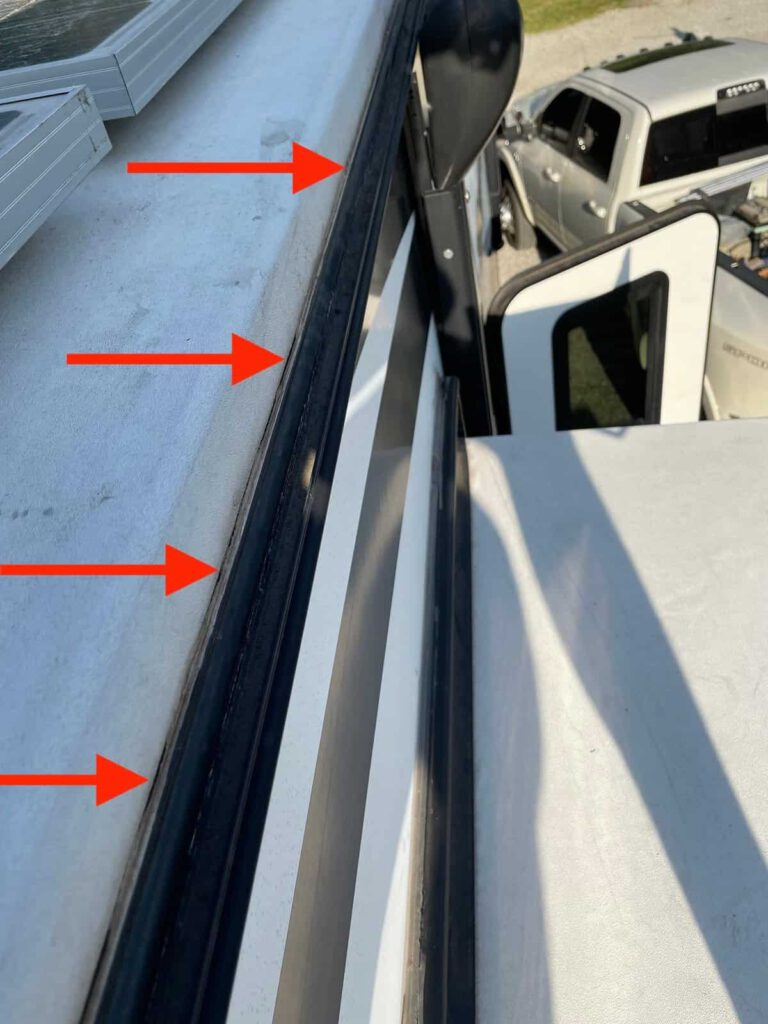 How to perform RV roof side seam maintenance
Pull the insert molding loose from the rail.
Tighten the molding. Reinstall the insert molding in rail.
Scrape loose sealant off at side seam. Thoroughly clean the molding and roof surface with Acrysol. Let molding and roof surface dry.
Apply a thin layer of Dicor Non-Sag Sealant to the roof/molding edge.

Pro-Tip: I like to cut the Dicor bottle tip small, then pinch with pliers to make a "frosting tip." This makes it easier to spread down/feather in place. You can also knock it down with a wet finger. Above all else, take your time.
Affiliate Links
Products to use
Dicor Non-Sag Sealant — You will want to use non-sag sealant on all corners and side seams on the roof. Non-Sag Sealant is offered in several colors:
Dicor Self Leveling Sealant – Roof surface, for moldings, seams, vents, skylights, ect.
Grey
Plastic scrapers — This is a great tool for removing sealant/silicone from the roof and body of an RV.
Acrysol — This is a low-grade solvent that we use to clean and remove silicone, sealant and decals. This solvent cleaner leaves no film. Whatever you clean with it is prepped and ready to be resealed.
Advertisement/Affiliate
More from Dustin
Read more of Dustin's articles here.
Dustin owns and operates California RV Specialists, an independent RV repair shop located in Lodi, CA. He thrives on sharing his knowledge and enthusiasm of RV repair and maintenance with his team, customers, and virtual friends.
Be sure to check out his YouTube channel where he shares what's going on in the shop and the product offerings in the store. Dustin is also very active on Facebook. Join his group, RV Repairs and Tips – What's in the shop!
Dustin proudly operates the business alongside his wife, Ashley; but the true pair that run the show are their Boston Terriers, Arvie and Hitch.