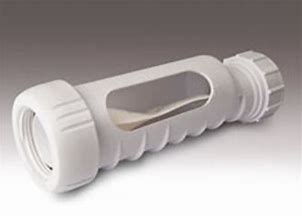 If you're showering in your RV and you're standing in a couple of inches of water in your RV shower – or if the water just isn't draining as quickly as it should be, you've got an issue that needs to be resolved.
So why isn't your RV shower draining? Let's take a look at one of the most common issues that lead to a clogged RV shower and or slow draining. Now there are a number of other reasons that could cause the shower to clog or backup, for example, it could be something as simple as that your gray water tank is full. It could also be that your tank sensors are reading incorrectly, or it could just be something else…
For most of us, we are all somewhat familiar with a P-Trap being under the galley or bathroom sinks, but did you know that most RV showers don't use a standard P-trap anymore?
For the most part, the RV industry has been using a device called a HepvO valve, unlike a P-trap the HepvO requires no water to seal off nasty waste tank odors. Since the valve is water-less, there is zero chance of a freeze damage or water that can evaporate from a P-Trap letting tank odors in the rig.
HepvO maintenance
Cleaning
No routine or seasonal maintenance is required for the HepvO sanitary waste valve, however, should you blow-out your drainage lines do not exceed 80-100 psi.
HepvO is resistant to standard caustic-based drain cleaners. It is also resistant to acid-based cleaners with concentrations up to 10%. When flushing with higher concentrations of acid based cleaner, the valve must be removed before the operation.
If mechanical drain cleaning devices are to be used it is necessary to first remove HepvO from the waste system. This provides a useful access point for servicing downstream pipework. It is good practice to rinse the HepvO valve with clean water after any maintenance procedure.
Blockages
If a pipe blockage occurs downstream of HepvO we recommend temporarily removing the HepvO valve before rodding the pipeline. If the HepvO is rodded there is the possibility that damage to the internal components will occur.
What does a blockage HepvO P-Trap look like?
I would recommend that you add this inspection and cleaning to your regular RV maintenance schedule at least once a year depending on use. You should be able to access the HepvO P-Trap by removing a panel underneath the shower, or you will need to see if it is located in a compartment underneath the shower area.
If your battling odors in the bathroom or a slow or clogged drain, we would recommend that you check your HepvO P-Trap, please see manufacture's website for installation and additional resources if needed. https://hepvo.com
What is the life expectancy of a HepvO Valve?
Installed correctly can be expected to have a life expectancy at least equivalent to current water sealed traps. In addition HepvO is guaranteed against defects in materials or manufacturing for a period of 3 years.
Here is a product link if you need a replace or simply just do not want to clean it. HepvO Sanitary Waste Valve – 1-1/2″
More from Dustin
Dustin owns and operates California RV Specialists, an independent RV repair shop located in Lodi, CA. He thrives on sharing his knowledge and enthusiasm of RV repair and maintenance with his team, customers, and virtual friends.
Make sure you check out our website, California RV Specialists, and their YouTube channel for more helpful information, and see our published articles on RVtravel.com and other social media pages.
Dustin proudly operates the business alongside his wife, Ashley; but the true pair that run the show are their Boston Terriers, Arvie and Hitch!