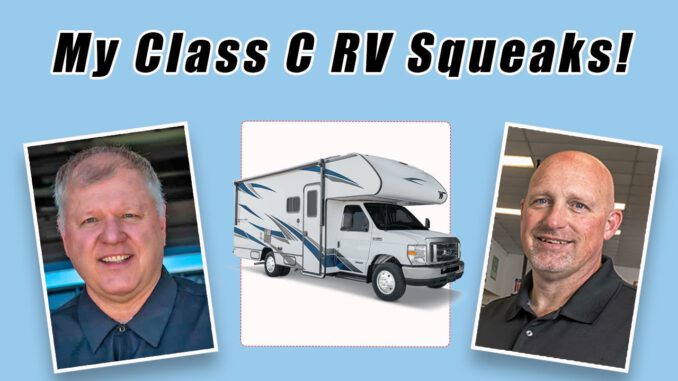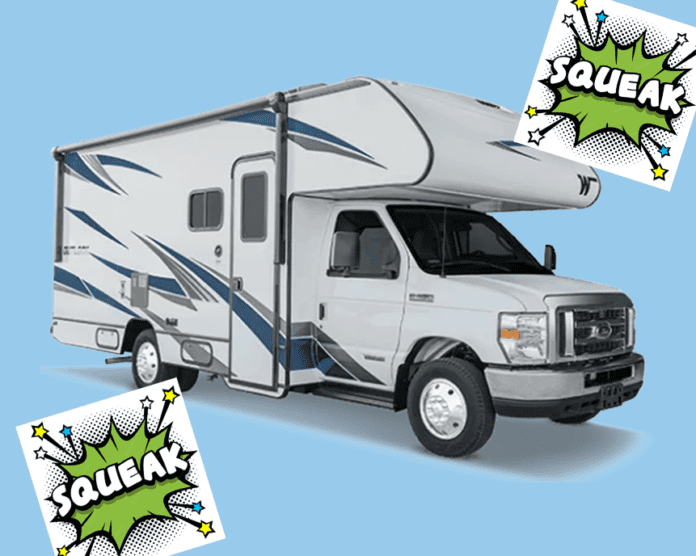 If you have questions, we have answers! Join us LIVE every Wednesday at 4 p.m. PST (that's TODAY!) for Talkin' RV Tech. Here is a sample from one of our recent shows where one of our viewers is experiencing a squeak on his Class C RV between the cab of his roof and the RV.
While the viewer's question is specifically regarding a Class C RV, the truth is every classification of RV can squeak—and some more than others. It can be very irritating! Unfortunately, the squeaks can be coming from anywhere and so we don't have a "cookie cutter" answer for you. As Dave mentions in the video, a lot of it will be trial and error.
Common ways RV squeaks can be remedied:
Thoroughly inspect your RV for any loose screws and tighten as necessary. I've said it a million times, and I'll say it again: Your RV goes through an earthquake every time you go down the road. Screws come out due to road vibration and it could be something that simple that is causing so much aggravation.
Advertisement/Affiliate
On motorized units, some squeaks are caused by your dashboard rubbing against adjoining parts of the RV. You can strategically place self-adhesive foam weather stripping to keep parts from rubbing together. Whether it's the dashboard or anywhere else in the RV, you may not have room to squeeze in some weather stripping to prevent rubbing, so you may want to consider using a dry lube.
On towable units, common causes of squeaks could be the metal on the tow vehicle's hitch ball starting to wear away. It could also be caused by anything on the brakes and the suspension going bad. Keeping up on your brake and suspension maintenance will help you find these causes of squeaks.
More from Dustin
Read more of Dustin's articles here.
Dustin owns and operates California RV Specialists, an independent RV repair shop located in Lodi, CA. He thrives on sharing his knowledge and enthusiasm of RV repair and maintenance with his team, customers, and virtual friends.
Be sure to check out his YouTube channel where he shares what's going on in the shop and the product offerings in the store. Dustin is also very active on Facebook. Join his group, RV Repairs and Tips – What's in the shop!
Dustin proudly operates the business alongside his wife, Ashley; but the true pair that run the show are their Boston Terriers, Arvie and Hitch.