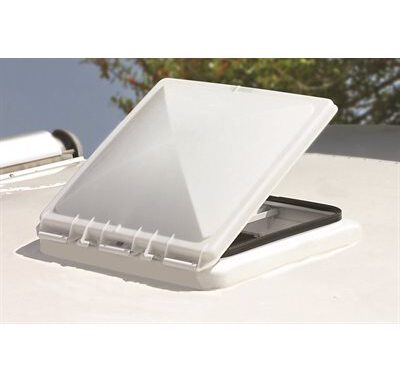 Did you know there are 8 different vent lid styles, the main difference is how they hinge to the vent base. To better help yourself or your local repair shop, make sure you either remove the vent lid and bring in, or take a side and back view picture so its easier to match it up for you.
Selecting the Correct Hinge Style and Color
Many RV owners want to match their vent lids with items on the roof, examples the roof air conditioner cover. Typically the roof vent lids come in black or white. There are also some things to consider beside the appearance when purchasing your replacement vent lids.
Selecting the Material
What's type of material is it made of? Polypropylene or Polycarbonate
The Polycarbonate vent lid has a higher impact-resistant and states that its virtually unbreakable under normal use. That includes a longer warranty, the lids are thicker and stronger that helps to extend the life.
Advertisement/Affiliate
The Polypropylene is your typical standard vent lid, very flexible and easier to damage due to less impact-resistance.
Here is a short video clip explaining what to look for when going shopping for your vent lid cover.
We how this information helped you to understand more about RV vent lids.
Advertisement/Affiliate
Here is some other great Camco vent products that you might be interested in to help keep you cool or warm in your unit.
Camco RV Vent Lid White Unbreakable
Camco RV Vent Lid White standard
Camco RV Reflective Vent Cover
Camco White 14″ x 14″ Dual Vent Cover
Camco RV White Roof Vent Cover
Camco Standard Roof Vent Cover Black
Camco RV Black-Out Vent Insulator with Reflective Surface
More from Dustin
Dustin owns and operates California RV Specialists, an independent RV repair shop located in Lodi, CA. He thrives on sharing his knowledge and enthusiasm of RV repair and maintenance with his team, customers, and virtual friends.