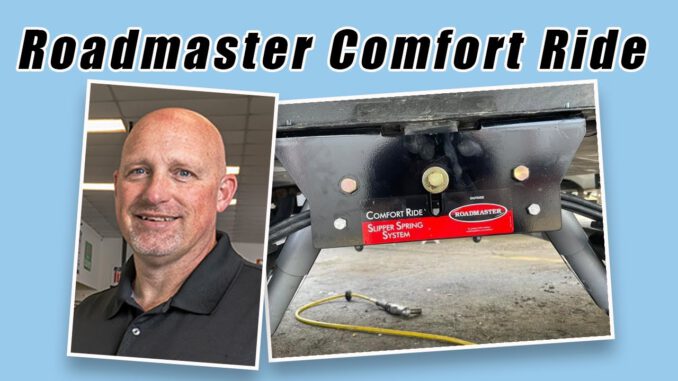 Dustin shares all the benefits of having the Roadmaster Comfort Ride System. The Roadmaster's Comfort Ride Slipper Spring system is designed to be used with the Comfort Ride Shock Absorber system.
When the systems are used together, you can expect up to a 50 percent reduction in induced road energy transmission into your RV — over cobblestones, a 76 percent reduction, and over gravel roads, a 94 percent reduction! These products are designed for low maintenance; 10 of the 14 moving parts in the conventional RV suspension are eliminated. The remaining four are lubricated with bushings.
Comfort Ride shock absorber and slipper leaf spring systems will significantly reduce the cause of these common symptoms:
Chucking — the truck is rocked forward and aft when the trailer goes over uneven pavement (dips, frost heaves and the infamous bridge expansion joints)
Axle roll-up — during braking, the trailer's rear tires are lifted enough to cause a loss in traction (and a rise in the driver's blood pressure)
Suspension rebound — when one tire goes over an obstacle, the trailer tips sideways. After the tire clears the obstacle, the leaf springs (and the trailer with them) rebound like a pogo stick.
Comfort Ride shock absorber and slipper leaf spring kits can be purchased and installed separately, but in combination, the whole is greater than the parts — the two components provide a more significant improvement in ride quality.
DIY links
More from Dustin
Dustin owns and operates California RV Specialists, an independent RV repair shop located in Lodi, CA. He thrives on sharing his knowledge and enthusiasm of RV repair and maintenance with his team, customers, and virtual friends.