Are you looking to setup a flat tow vehicle? You have come to the perfect spot! We sell all top brands – Roadmaster and Demco.
HOW MUCH DOES A FLAT TOW SETUP COST?
On average, a flat tow package price can range anywhere between $7,000.00 – $9,000.00; depending on what is needed to make your vehicle towable.
You probably see a lot of RVs pulling Jeep Wranglers. They are one of the most popular tow vehicles available today.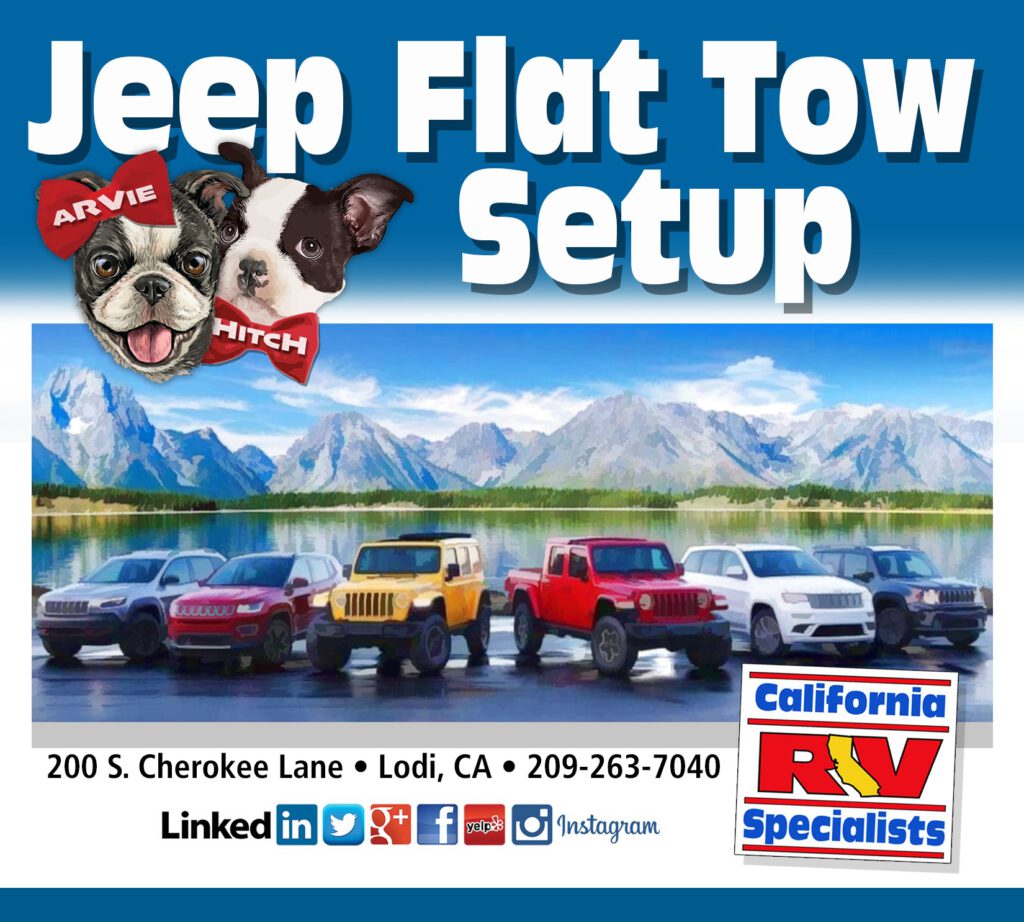 IS YOUR VEHICLE CAPABLE OF BEING FLAT TOWED WITH ALL WHEELS DOWN?
It is best to obtain this information directly from the vehicle manufacturer.
WHAT IS IN A BASIC TOW PACAKAGE:
Tow Bar – This connects the motorhome to the car.
Base Plate – The tow bar is pinned into the receiver of the motorhome and connects to the base plate which is installed behind the bumper of the tow car.
Wire – The vehicle is wired to make the lights work in conjunction with the signaling of the motorhome.
Braking System – The law varies between states, but in California a braking system is required when towing a vehicle over 1500lbs.
Labor – It takes 16 -24 hours to install these items; our labor rate is $175 per hour.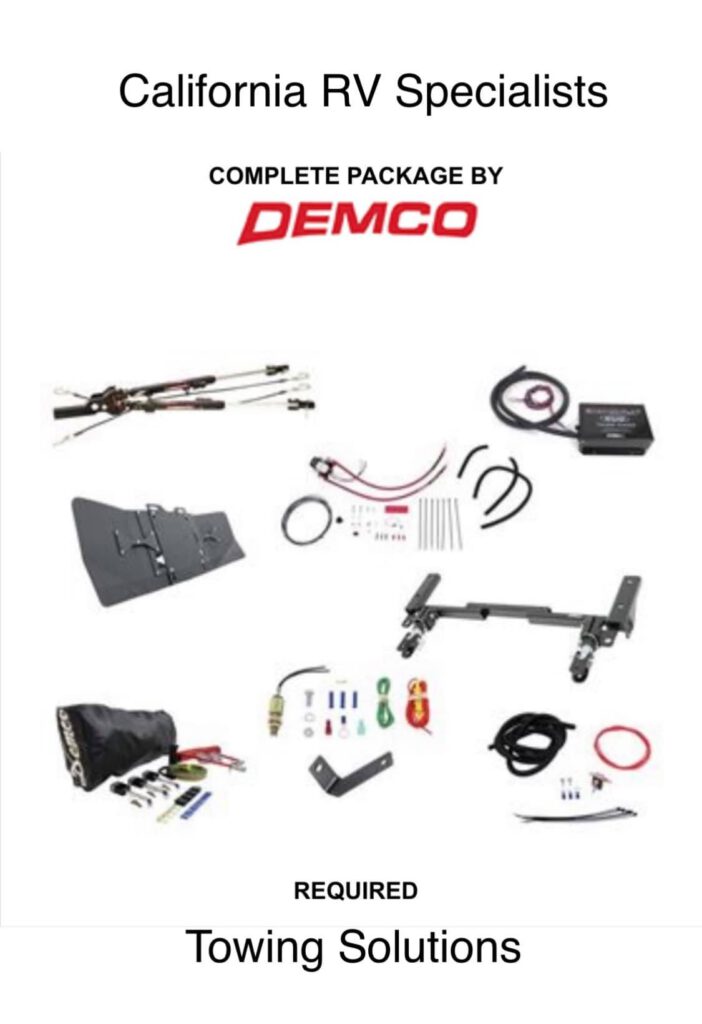 WHY IS THERE SUCH A WIDE PRICE RANGE FOR A TOW PACKAGE?
Every vehicle is different and can require more items to properly setup for towing. Some of these variances can include:
Some vehicles need to have the battery disconnected.
Some vehicles do not have a "cold side of the brake."
Some vehicles must have fuses pulled.
Some vehicles have variable voltage LED taillights.
Any variance warrants additional parts and labor to install. But this ensures a safe and easy tow setup!
WHAT IF I HAVE AN AFTERMARKET BUMPER?
The jeep is probably the most towed vehicle. There are also a ton of aftermarket parts available for Wranglers. Many customers like to tow their "toys" with them when they camp. This is NOT a problem! There are adapters to connect your aftermarket bumper to a tow bar. This would also eliminate the need for a base plate to be installed. Please note: some aftermarket bumpers may need to be modified, which requires additional labor.
HOW DO I GET AN ESTIMATE FOR A FLAT TOW SETUP FOR MY VEHICLE?
To provide you with an accurate estimate we will need to know the following information:
Tow vehicle information including:

If you have an aftermarket bumper installed (you will need to provide a picture of the bumper or bring your tow vehicle by).

Motorhome information:

Chassis brand including gas or diesel.
I HAVE AN ESTIMATE AND I AM READY TO START THE PROCESS!
Each flat tow setup is unique, meaning these are special order parts. We do require a deposit on all parts to get these items ordered. Labor will be due at the completion of the installation.
Once we have received all parts, we will call you to schedule an appointment. This appointment will be for the vehicle being towed, not your motorhome. On average, we will need your tow vehicle for 3-days minimum. 90% of labor is spent on the tow vehicle itself.
Whether you drop your motorhome off at the same time as the tow vehicle or schedule it for a few days later, once the work on the tow vehicle is complete, we will then need your motorhome to complete the tow package. This allows us time to check for any adjustments that need to be made for height difference between the motorhome and tow vehicle, we also fully test the braking system for proper operation. Additionally, if your motorhome has a diesel engine, we will need to install an expansion tank. Allowing us time with both vehicles ensures your vehicles are safe for towing and ensures a seamless demonstration at pick-up time!
Finally, you will be scheduled for pick-up with a full demonstration. Feel free to record the demonstration and ask questions. We take pride in the work that we do and want to ensure you feel confident and safe towing your vehicle.
Spare Tire Carrier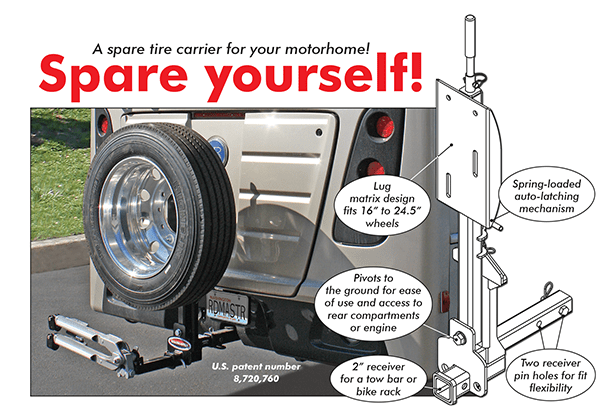 When it comes to a flat tire, "I hope it won't happen to me" isn't much of a contingency plan. But that's all most motorhome owners have to work with because most motorhomes don't carry a spare.
Tow Bars Deflector
Elements like loose gravel, road tar and other road debris get hurled at high velocity toward your towed vehicle. The Sentry® tow bar deflector is constructed of resilient, high density polyethylene and is attached to the connecting ears of the Demco tow bar.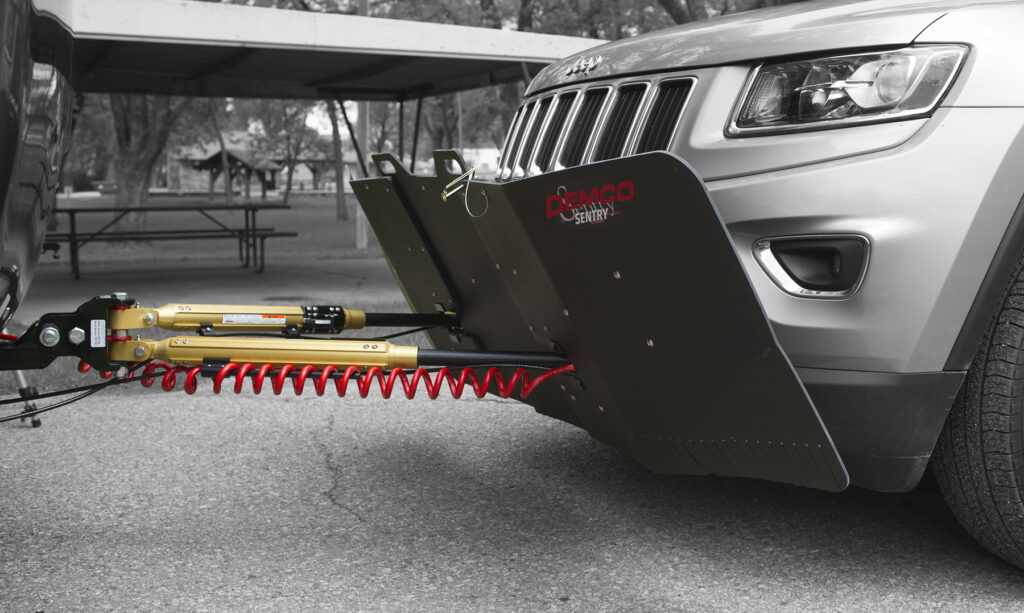 Unique Position And 30 Degree Angle Deflect Debris Down And Away From Your Vehicle. Messy Cleanup And Costly Paint Chip Repair Are Minimized
High Density Polyethylene Retains Its Shape And Takes Destructive Abuse
Lightweight, But Strong, The Sentry® Deflector Is Durable, Yet Pliable And Flexible
Fringed Bottom Edge Allows More Flexibility – Minimizes Damage To Deflector Caused By Curbs And Extreme Dips And Bumps
Easy To Install Or Remove
Limited 1 Year Warranty