Looking to setup a tow vehicle behind your motor home? We can help set you up!
Below is a little knowledge on what vehicles are tow-able and the options to tow them.
Lets start by learning the references to towing a vehicle behind your motorhome (4 wheels down, toading, dinghy towing, and flat towing,)
Now that you know the references.. Lets see what vehicles can be towed.
What Vehicles Can be Towed 4 Wheels Down?

There are a variety of vehicles that can be towed behind your RV without the need for a complicated set-up or a trailer. For example, most Jeep vehicles can be towed without modifications. This is also true for some Ford, Dodge, Chevy, and Honda cars, SUVs, and trucks. But, you will have to check with your dealer to ensure towability. It can be expensive to repair a vehicle that you shouldn't have towed in the first place.

The best vehicle to tow behind an RV is lightweight and can be towed with its wheels on the ground. Remember, the lighter the vehicle, the less wear and tear on your towing system and the RV. It's also an advantage to you if the vehicle's mileage doesn't change while it's being towed.
Within the guide below you'll find the 2000 – 2019 MotorHome Dinghy Roundup of all manufacturer-approved flat-towable cars, trucks and SUVs.
After you have found out if your vehicle is towable, lets move on to the options for setting up your vehicle to tow.

Our current 2 most popular tow vehicle setup consist of the following:
#1 Roadmaster
Roadmaster tow bar bracket kit
Roadmaster towbar (Most popular "Nighthawk")
Roadmaster accessory kit
Stay-IN-Play duo by SMI
#2 Demco Products
Demco tow bar bracket kit
Demco towbar (Most popular "The Dominator")
Demco accessory kit
Stay-IN-Play duo by SMI
These setups run roughly $5800 parts and labor, "Price changes depending on if you need a brake light switch or battery disconnect installed".
Visit Roadmaster.com to view a list of bracket kits and towbars available. This site will also inform you if you need a brake light relay or any other parts that are required for your tow vehicle.
Visit Demco Products to view a list of bracket kits and towbars available.
Visit demco-products.com for a list of braking systems. Our most common install is the Stay-IN-Play Duo. We really like this system setup because 1) It is permanent and out of the way and 2) It uses your brake booster from your tow vehicle so you have the same amount of braking power every time you stop. SMI also offers the Air Force One that is design for air brake systems in your motorhome.
Even though these are our most popular setups that does not mean you have to go with them. There are other manufactures out there that provide great products as well. Blueox for example.
BlueOX is another top manufacture with their tow bars and bracket kits as well as their SWAYPRO®, featuring true spring steel and technology. Their top notch weight distribution with built in sway.
---
Another option for towing your vehicle behind your motor home is using a tow dolly. They are a good option depending on the situation. Not all parks allow them because they take up extra space. But the convenience of taking any vehicle you want and not being stuck to just one is a nice option.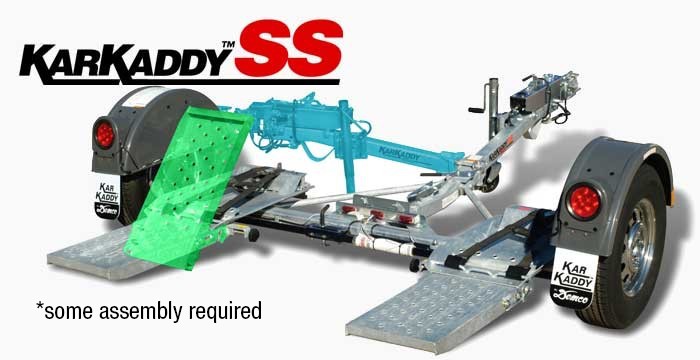 Need more space? Fold it!
Includes disc brakes. Perfect solution for RV parks that are not deep enough to accommodate your motorhome and tow dolly. Fully extended- 133 inches long. Folded- 67 inches long. Hydraulic surge brake system for safe and controlled stopping. Chrome wheels with radial tires and dual safety chains. Sealed bearing hubs with a 3-year unlimited warranty. Less than 100 lbs. tongue weight when loaded, for improved ride and handling of tow vehicles. Total towed vehicle weight: 4,800 lbs. Axle capacity: 3,500 lbs. Towed vehicle tread width: 42" minimum, 76" maximum. Galvanized finish. eZ-Latch coupler.
---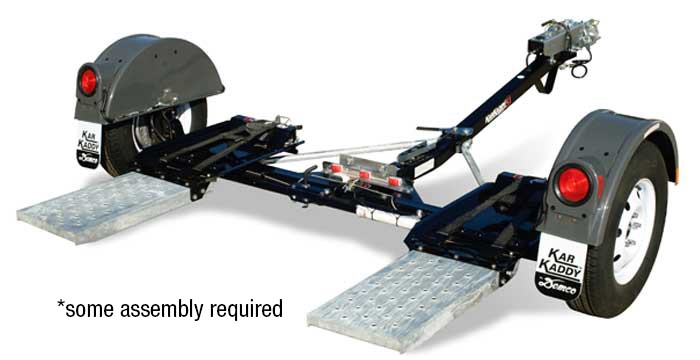 Tows almost any vehicle without adjustments to axles or ramps.
Includes disc brakes No bolts to tighten and no heavy components to reposition. Tilt bed frame with positive automatic relatch locking mechanism for easy loading Polyethylene fenders with protected, sealed lights Sealed bearing hubs with a 3-year unlimited warranty "Sure-grip" galvanized low profile loading ramps and platforms Total towed vehicle weight: 4,800 lbs. Axle capacity: 3,500 lbs. Towed vehicle tread width: 42" minimum, 76" maximum Black powder coat paint finish, with hot dipped galvanized components Auto-steer makes turns problem-free. EZ-Latch coupler
---