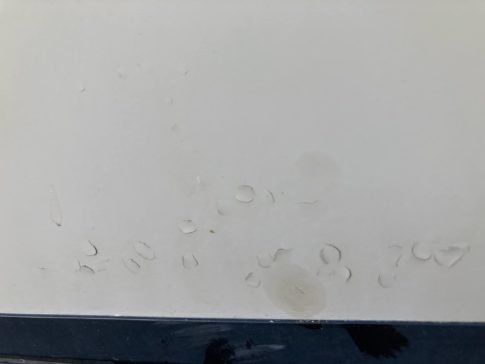 What is causing the RV chip pops and the touch-ups to repop? It goes on one side from the top to the bottom back right side and above the storage covers. None around windows or doors. 2014 Keystone RV 29RE Diamond Edition. Is this RV body damage, RV paint damage, RV Fiberglass damage?
My reply:
Lizzie, first let me say that I'm very sorry this happened. What is happening to your trailer is called osmosis blistering. It is the result of a small amount of moisture getting into your wall. The moisture wicks its way out through the wood sheeting and slightly porous fiberglass by osmosis until it reaches the impermeable layer of the foam insulation. The moisture reactivates the glue and causes gassing to happen, which causes the bubbles and chips to occur.
Body reseal benefits
By caulking your RV, it helps to protect your investment and creates a watertight seal to protect your unit from outdoor elements. Applying caulk around the trim and windows helps to ensure that no outside elements get inside through the window frame or other gaps.
When there is no caulk, dirt and dust enter the RV more freely. If moisture from condensation, rain or snow, or by washing your unit gets into the RV, it can damage the structure or cause dangerous mold and mildew. Water and mildew stains can appear in the carpet and on the walls. However, in most cases it doesn't show up right away, causing unnoticed dry rot to occur.
Advertisement/Affiliate
Caulking around certain joints creates a watertight seal that prevents water from outside from seeping into the cracks and crevices of your RV. If water gets in, it can cause a lot of damage that can be extremely costly to repair and even total your unit. Make sure to reseal your unit to prevent further damage.
DIY product links:
Advertisement/Affiliate
Our Facebook groups
These Facebook groups were created to help educate owners about parts, problems, repairs, fixes, and upgrades on RV units. We will be sharing videos that include WHAT'S IN THE SHOP? and SHOP TALK episodes with information on accessories and products that we use and install on the units from the shop.
We try and help as time allows to answer questions and problems. We encourage others to share their experience so we can build a resource page to help everyone.
Make sure you check out our website, California RV Specialists, and their YouTube channel for more helpful information, and see our published articles on RVtravel.com and other social media pages.