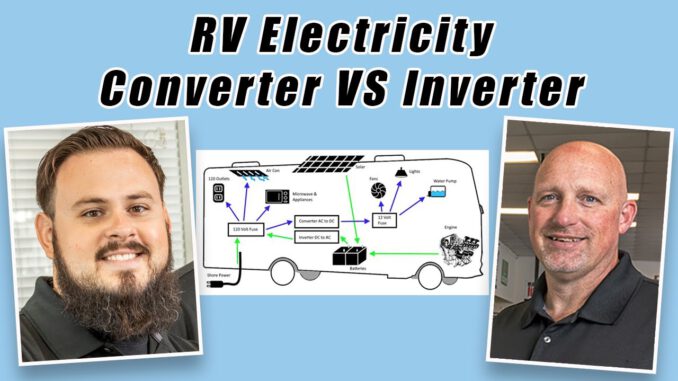 In this video, Dustin and Zach discuss RV electricity basics—specifically, the difference between an RV inverter vs. a RV converter. They also cover what items run off of 12 volts (DC) and what items run off of 110 volts (AC). Knowing the difference will not only help you manage your RV electricity, but can help you troubleshoot problems when you are out on the road. 
Tech support phone numbers for RV electricity issues
Should you need tech support with your RV electricity, locate your converter or inverter and gather the brand name, model and serial number. Tech support will be able to assist you based on the year, make and model of your RV.
WFCO: 1-877-294-8997
Progressive Dynamics: 1-269-781-4241
Samlex Power: 1-800-561-5885
GoPower!: 1-866-247-6527
Xantrex: 1-800-670-0707
IOTA: 1-800-866-4682
Parallax Power Supply: 1-800-443-4859
Park Power: 1-800-307-6702
Advertisement/Affiliate
More about groups
These Facebook groups were created to help educate owners about parts, problems, repairs, fixes, and upgrades on RV units. We will be sharing videos that include WHAT'S IN THE SHOP? and SHOP TALK episodes with information on accessories and products that we use and install on the units from the shop.
We try and help as time allows to answer questions and problems. We encourage others to share their experience so we can build a resource page to help everyone.
Make sure you check out our website, California RV Specialists, and their YouTube channel for more helpful information, and see our published articles on RVtravel.com and other social media pages.