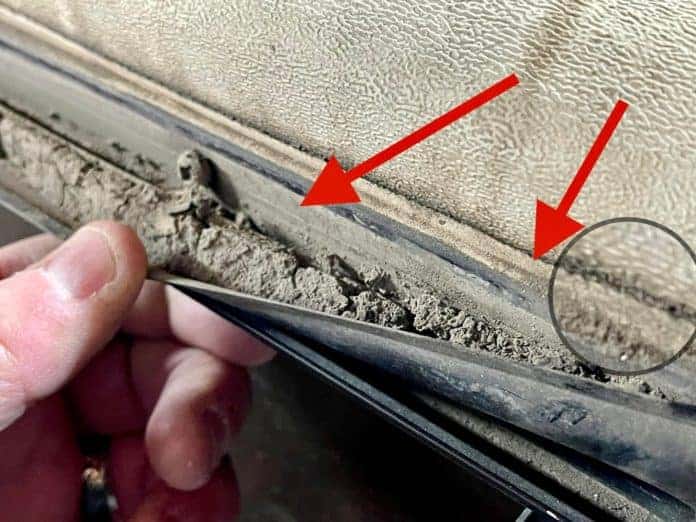 By Dustin Simpson, California RV Specialists
It's important to make sure your RV is taken care of, so please don't forget your insert moldings.
Part of this means checking to make sure your roof trim is in good shape, as well as side seams and front and rear moldings. No one wants to start a vacation only to find out that the roof and body were not sealed properly. Unless you visually check the insert moldings, in most cases you will not see the water damage until it is too late.
Why is insert molding important?
It helps to keep the moisture and other elements out of your RV by sealing the edges of the roof, body, and the front and rear seams. This is a very important step for you in weatherproofing and protecting your unit.
Advertisement/Affiliate
When water gets past this seal screw cover, it can cause serious damage, spreading through the unit and inviting the growth of mold, rusting screws and causing dry rot.
California RV Specialists recommend that you replace the insert molding as needed every 2-3 years.
DIY Project
More from Dustin
Read more of Dustin's articles here.
Dustin owns and operates California RV Specialists, an independent RV repair shop located in Lodi, CA. He thrives on sharing his knowledge and enthusiasm of RV repair and maintenance with his team, customers, and virtual friends.
Be sure to check out his YouTube channel where he shares what's going on in the shop and the product offerings in the store. Dustin is also very active on Facebook. Join his group, RV Repairs and Tips – What's in the shop!
Dustin proudly operates the business alongside his wife, Ashley; but the true pair that run the show are their Boston Terriers, Arvie and Hitch.