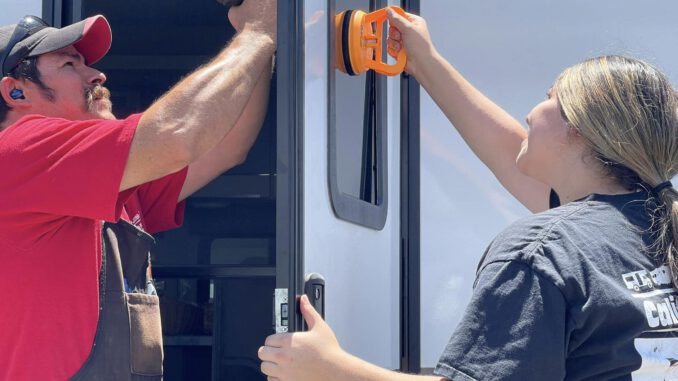 Let's face it, RV entry door windows shade can be a point of contention when you're on the road.
Too much sun, not enough privacy, and unreliable, snap-on panels can put a damper on anybody's day at the campsite.
That's why we designed the Thin Shade™ Complete Kit by Lippert™. The only window and blind combination for RVs of its kind. Pull it down for the shade and privacy you need on the inside of your RV — or push it up it for a clear, enjoyable view to the outside. Your choice.
Upgrade Your Door Window with the Thin Shade when you need it, see out when you want!
Directly replaces existing window and frame or add to door with no window with the template that is provided. Complete unit comes with black frame, tinted window glass and recessed pleated shade.
Easily installs with only a screwdriver. Screws included. Fits most RV doors with a 12″ x 21″ radius corner window. Made in USA. Packaged.
Caught Sam the Daughter of Fructuoso helping her Dad install a thin shade today on the lot on this Grand Design Imagine.
DIY links below
Make sure you check out our website, California RV Specialists, and their YouTube channel for more helpful information, and see our published articles on RVtravel.com and other social media pages.